Deputy Head Of Lukashenka's Administration Made Geographical Discovery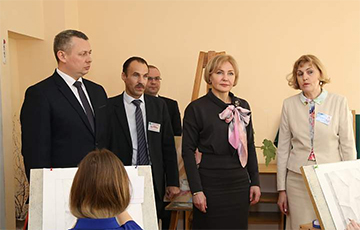 Doctor of Law, Professor Volha Chuprys believes that Kazakhstan is Belarus' eastern neighbor.
Visiting Vaukavysk Pedagogical College in Hrodna region, Deputy Head of Administration of the ruler of Belarus Volha Chuprys made a geographical discovery and several interesting statements.
In particular, she said that the authorities plan to introduce some special responsibility for insulting teachers. And, as Volha Chuprys said, this is done on the example of Kazakhstan, where such a norm exists. At the same time, deputy head of Lukashenka's administration called the Asian country "our eastern neighbor".
"The society must protect its teachers. This can be done, for example, using the experience of our eastern neighbor - Kazakhstan, where administrative responsibility for insulting teachers while performing their duties has been introduced," - Hrodna Prauda quotes Volha Chuprys.
Volha Chuprys has the degree of Doctor of Law and the title of professor. She worked in various executive positions at the Law Faculty of the Belarusian State University. She was Vice-Rector for Educational Work and Innovation at BSU. Since December 2019, she has been Deputy Head of the ruler's Administration. In 1998 she defended her PhD thesis on "Constitutional and legal problems of citizenship in the Commonwealth of Independent States: comparative legal analysis", and in 2010 - her doctoral thesis on "Theoretical problems of legal regulation of the civil service of the Republic of Belarus".
It should be noted that the distance between Belarus and Kazakhstan is about two thousand kilometres.