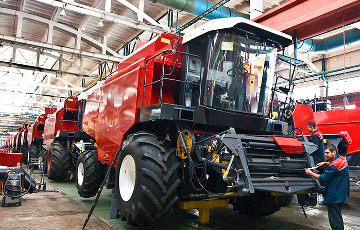 What will happen to the largest state enterprises of Belarus?
The state has included 13 enterprises into the list of those offered for privatization in 2020, and among them there are such significant plants as Haryzont, Homselmash, Kalinka.
The Charter97.org website has talked to economist Leu Marholin about the situation around the "privatization" of Belarusian flagship enterprises.
- At some point, it was offered to buy these enterprises for a good price. What about the current situation?
- The authorities are definitely too late. The "family silver" has long since ceased to be it. Indeed, back in the mid-1990s there were very tempting offers to buy very prosperous enterprises at that time. For an example, I can mention the Barysau piano factory and the Barysau Crystal Plant, which have joined the majority. Then the answer was very dismissive that "we ain't that stupid", that we ourselves could cope with everything. Since then, during the reign of Lukashenka, there were several attempts of the government to select some enterprises for privatization, but it did not go further than the privatization of small enterprises. Naturally, the large state-owned enterprises, which were the pride of the country, were gradually falling into decay, because it is important for the enterprise not only to have production machines, buildings (although it matters), but first of all, modern management is important for a modern enterprise. Flexible, which navigates the situation in a flash and keeps pace with the times. Such management could not exist in the public sector by definition, so they fell into decay.
It's a question whether someone will buy them now. As a rule, some additional conditions, which Lukashenka tends to impose on potential buyers at the last moment, remain in the shadow. This has happened more than once, when an enterprise was allegedly offered to investors for purchasing on a market basis, and then it turned out that there were a dozen additional conditions, starting from keeping the headcount and so on.
Two conclusions can be drawn. First of all, it is clear that these enterprises are no longer the gold fund of the Belarusian economy. And another thing is that it is not a given that they can be sold at all.
- What other enterprises may be put up for sale?
- All the loss-making enterprises should be put up for sale. The state should not take the burden of preserving these enterprises at the expense of the people.
On the other hand, putting them up for sale must be prepared.
A lot of enterprises may soon be put up for sale, first of all, in the machine-building complex, the MAZ, for example. Most of them are incorporated.
- Some specialists say that the two Belarusian refineries are becoming unprofitable. What fate may await them?
- Everything will depend on how the situation develops. We have witnessed the shutdown of the refinery in neighboring Lithuania. In Belarus, it may turn out that they will not be able to compete on market conditions, because it is no secret that the need of Belarus is the one quarter of what we received from Russia, the rest was exported. If we cannot compete in the export market, it means that there will be no point in doing anything.
- Is it still possible to make an investor interested in the "darkened family silver"?
- Investor's thoughts are unpredictable. Someone is interested in the location, he does not even need machines and all that. Someone is going to fundamentally change the orientation of the enterprise. In each individual case it is done as follows: there are respected specialized firms, there are a lot of them in the West, which can conduct an examination of each enterprise and say what can be done with it, whether it will interest the investor, for what price. This is the pre-sale preparation. If it is not done, it is practically impossible to carry out privatization of an enterprise in a proper way.
- And if someone takes a risk and invests money, what fate may await this investor, taking into account the existing experience?
- The most different ones. He might make friends with Lukashenka and play hockey with him. Or he might end up in the dock tomorrow. Or maybe he will be left unscathed, it will just turn out that the land under his enterprise is state-owned, so if you can, take the whole enterprise, if you can't - get out. The state will deal with it further. It's quite unpredictable in our country, so whatever we put up, there won't be any investment boom. That's because there is no independent law enforcement judicial system.
- What would you advise to do with large state enterprises inherited from the Soviet era?
- First of all, they should be withdrawn from the ministry and transferred to a commercial basis, so that no one would supervise them. The only task should be to make a profit. That's all. This must be done urgently and at the first stage. The next step is to think about what exactly to privatize and what not.
These are well-known things, but nothing will change from repeating them, because the current government is not inclined to carry out reforms.