Nuclear Power Plants And Cowsheds
VIKTAR HARBACHOU
24.02.2020, 11:09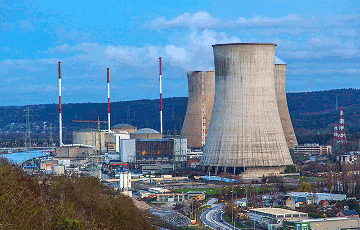 Let's make a deal with Elon Musk and that's it!
Why, they say the battle with cowsheds is over in the country, and everything's super cool. And there are no pooped on cows anymore.
What's that supposed to mean? Needless to say! That means we can clear the next bars. Everything's going to be very serious. And the money turnover is going to get bigger and bigger.
Well, if the cows have been washed, drunk and fed, the farms are cool and the dairymaids get at least 800 dollars. Why not go at more important things? Well, if that's the case, then the happiness will be there! We're not just an IT country.
Lo and behold, Belarus would like to help Rosatom to build nuclear power plants abroad. And first of all it concerns Hungary. Belarus would like to take part in the construction of the Hungarian nuclear power plant, Paks-2. And, besides, it's ready to do the same in Egypt.
This was stated by Belarusian Energy Minister Mikhail Mikhadziuk the other day.
"We have already gained considerable experience at our station, our specialists. And Rosatom will hire them for that construction. I just got back from Hungary yesterday. It was agreed that at the end of March the delegation will come here for more substantive negotiations on this subject," - the Minister said.
How glad I am! We are rising to a new level in the world. We are ready to build quality nuclear power plants everywhere. And then? And then it will not be a problem to get to the Moon and conquer the outer space among the first. Well, no! The Moon is too easy. Let's go to Mars! Let's make a deal with Elon Musk and that's it!
And you say: cows-cows! That's enough about the pooped on cows. We're building nuclear power plants everywhere and conquering space.
And he said, "Off we go"!
Viktar Harbachou, Facebook