Authorities Got Nervous Because Of Homel Farmer-Blogger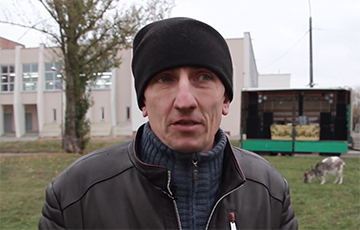 Strange charges have been brought against Yury Hantsevich.
On February 22, the details of the detention of farmer-blogger Yury Hantsevich by the Homel police became known. The day before he had been taken to the temporary detention center, naviny.by reports.
Hantsevich became known during the autumn of 2019, when he ran for deputies of the House of Representatives in Homel Yubileiny district. He used to hold campaign pickets bringing cows and goats. The farmer subsequently opened a Youtube channel and became a blogger.
On February 22, a lawyer visited the detainee in the temporary detention facility and found out that Hantsevich had been accused of petty theft in a construction shop. The farmer was charged with two episodes, on February 8 and 21, when he allegedly had not paid for peddlery.
"He was charged with the theft of some box bolts worth 13 rubles. The guards said that if he admits it and pays on the spot, nothing will happen to him. He was worried about his animals - he had cows, goats, sheep, and no one else to care about them, so he agreed and paid 13 rubles. But the police came all the same and he was taken to the temporary detention center, and he was also charged with some theft, which he had allegedly committed on February 8," - blogger Siarhei Tsikhanouski told BelaPAN.
On Monday, February 24, the Homel Chyhuhachny district court will consider the administrative case against Hantsevich.