Stanislau Shushkevich: Lukashenka Is Now Despised By Everyone
20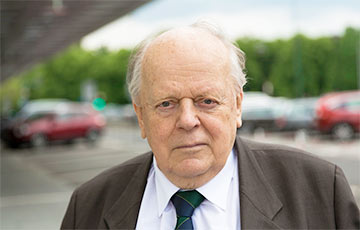 He has already lost his game.
First head of independent Belarus, former chairman of the Supreme Council of the Republic of Belarus Stanislau Shushkevich spoke about the Russian-Belarusian relations.
- The Kremlin still intends to absorb Belarus, and create a single state with Russia. At what stage is this process now?
- Russia is really making efforts to eat Belarus. Annex our country, and attach to itself. To do this, they use Lukashenka's thirst for power. He has been preoccupied with nothing else but how to maintain power, for more than 20 years. For the first four years he was a "legally elected president", and then became a falsely "elected" ruler, distorting the results of any vote. So Lukashenka further seeks to maintain power, and Russia seeks to eat Belarus. We will talk directly about this without calling the process annexation. All this while making a decent appearance: they say, we are strengthening the integration of both countries.
Now that Russia is tightening the loop around Lukashenka's neck, he has declared everyone to be its enemies. And now he wants to receive low oil prices, for kisses and phrases about beautiful Russia. Only this time has passed, Russia no longer needs to drag Lukashenka into a financial hole. He is already there, unable to pay, so he begins to prance around publicly, saying that they are putting pressure on him, that there are Russian military bases on our territory that do not pay off, although that was his idea. The loop is tightening, and this is bad for Belarus.
Lukashenka still hopes that the West will once again help him with loans. True, he has already lost this game, Lukashenka is a debtor, he is not able to repay his debt, just as he is not able to get blessings with kisses. To have a leader who cares not about the country, but about himself, is generally very bad. And getting out of this situation is even more difficult.
- A new presidential election is coming this August.
- Yes, and Lukashenka will again falsify the results. He is now generally despised by everyone. And why? In fact, he assembled a team of intellectually miserable leaders, while he himself demonstrates incompetence. A historian by training, he presents the Order of St. Francysk Skaryna and says that Skaryna walked around St. Petersburg. The city was founded in 1753, that is, a century and a half after Skaryna died. Lukashenka can say that he studied the poems of the Belarusian classic Bykau, although he did not write poetry. And his subordinates must observe only one rule. It is simple, as it was in the Soviet times: you are the boss, and I am a fool. Such scheme always leads to a crisis.
I think Belarus is facing bad times. It is necessary to pay off state debts. Regardless of Lukashenka's actions, he will find a way to avoid personal responsibility. And he can sell everything, including Belarus.
- That is, the merger of Belarus and Russia into one state is possible?
- This is very dangerous for us. After all, Belarusians look at it in such a way that they can live without Russia much better than with it. Look, Russia is a rich country, 140 million inhabitants. According to their statistics, 22 million of them live below the poverty level. Russia is a poorly managed country, it just has very thrifty people. Of the 10 million Belarusian citizens, according to the same official statistics, only half a million live below the poverty level. Russia is a country of poor citizens, contrasts, and exported capital. Its natural wealth goes to the enrichment of the oligarchs. And Belarus, even under Lukashenka's mismanagement, is in a better position. And here, of course, Russia wants to receive this appendage as a more intellectual part in the political and economic sense. The same as with Ukraine.
- And what would the Belarusians themselves want: to live in an independent state, or under Russian leadership?
- Most Belarusians want to live in an independent state, and Lukashenka seems to be "playing along". Like, he is also a "fighter for independence". And some of our intellectuals, such as Alexievich, praise him: they say how skillfully Lukashenka "confronts Moscow". Although he is ridiculous, Moscow has tightened a loop on his neck. Lukashenka says one thing and does another. This is his old feature, which Belarusian intellectuals, unfortunately, do not understand.
The propaganda periodically talks about the poor life in Ukraine and how good it is in Russia. So, let's focus on Russia. Only this does not suit a normal person. Those few Belarusians who go shopping in Poland or Ukraine see how people live in other countries. It's hard to deceive such people. But this is a very small percentage. I think most Belarusians are striving for Europe. Although if you believe the polls, then there are few. In terms of information, Belarusians are TV-oriented, they believe that they live well, and do not claim anything else. There are those who believe that if there is no war - it's good enough.
- So, will Putin press Lukashenka in regarding the creation of a single state?
- I think we can resist this. We do not deserve such a fate. Although the Russian world is very strong here, like in Ukraine. There are many Russians on high positions. Even the chairmen of the security forces and ministries are people of non-Belarusian origin. This is a dangerous situation, but I think that we will withstand.
- In fact, Lukashenka signed an agreement on a "union state" with Russia back in 1996. Political scientists say, at that time he believed that he would take the place of the then Boris Yeltsin, and become the single president of Russia and Belarus.
- Lukashenka has had many impulses, he generally feels so smart and educated that it's just a shame to watch this. He gets confused in elementary things in the theory of economics and culture. Yes, he traveled around Russia and was convinced that since Yeltsin is a democratic president and weakly holds on to power, he can claim his post. Well, they wiped his nose. He can not equal the power of the Russian KGB - Putin did not even notice him, as if he was a petty insect.
- What are Lukashenka's positions in Belarus now?
- Now he is telling the whole country what kind of "fighter for independence" he is. But he says one thing and does something completely different. The situation is getting worse. Our GDP grew by 1.2 percent over the past year. By the way, like in Russia. And what about those countries that have taken the path of democratization? For example, Armenia: it has 7 percent. We started with better conditions in the 90s than Poland and the Baltic countries. But they now have an average wage 3-4 times higher than in Belarus.
- Is the West generally interested in Belarus?
- There is no structure that would be more useless in relation to Belarus than Brussels and Strasbourg. I met with the European deputies many times, and they don't understand what's going on at all. They do not even admit that we can have despotism and suppression of democratic principles. At first there were a lot of political prisoners, but now there is another measure, the terrible slings from which activists cannot disentangle themselves. The West does not understand what it is, and I think it will not understand. It seems to support Lukashenka's slogans about the Belarusian independence, but in reality did not recognize any elections after 1996. Moreover, the decisions of the parliament appointed by Lukashenka are made by parliamentarians of other countries. This is an absurd position of the West and it would be time for it to figure out what is happening in Belarus.
- Does Lukashenka have political opponents in Belarus?
- There are a lot of them, but the state propaganda works only for the ruler. So he went to Egypt and will say how important these strategic relations are, although in reality Belarus does not give a damn about them, at the level of rulers. But nobody invites him to a decent country at the level of a ruler. Lukashenka has been to the United States many times, but as a participant in the UN events. He didn't even meet there not only with a president, but even with some more or less respected clerk, too.
He had the last good conversation with Chirac, but after he ugly treated the diplomatic missions of many countries, the French National Assembly did not ratify these results. Thus, in the course of his activities, Lukashenka was virtually not at the government level in any country. Unless in Sudan or in Egypt.
- Why doesn't the West perceive him? Because of his undemocracy?
- Normal international relations are not built on deceit. Only Lukashenka can afford to expel the US ambassador in 2008, instead of developing relations with large powerful countries and neighbors.
- That is, he is correctly called the last dictator of Europe?
- This is an absolutely objective opinion. He has no goals except to maintain power. Therefore, he selects for himself such an environment that follows only one principle: you are the boss, I am a fool. There is no need for ideology or political science.
- Can Putin annex part of Belarus by military means?
- The military path is not needed. There are the Russian military bases in Belarus, we welcome the participation of the Russian units in parades, there are joint exercises ... We even don't have the Belarusian language in the army. All orders, and all paperwork is conducted in Russian, and there are no steps to independence. Same thing with autocephaly. Ukraine did the right thing by saying: there should be our own autocephalous church. And we thank and bow towards Cyril. This is clearly an obscene and unworthy thing.
And in general, why bring in Russian troops? Everything is very simple: Russia will simply turn off the oil tap. Lukashenka will be elementarily suppressed, and then he will come and say: "we are uniting". He will simply have no other option.