Rally Outside Belnauktahim: Belarusians Ask About Petrol Prices
50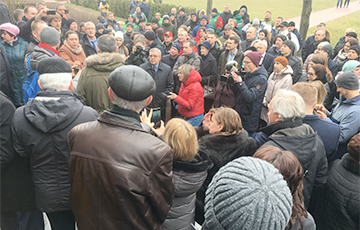 (Updated) A few dozen people are taking part in the rally.
Well-known blogger MozgON has urged people to come to the office of the Belnautakhim company. The main question the blogger proposes to ask the company's employees is about the pricing basis for the fuel.
Belsat is broadcasting the event live.
"Everyone in the country is concerned about the petrol prices. Even if you don't have a car, they affect the prices in the shops. I want to tell Belnautakhim representatives that we want to understand why these prices are rising. No one can say why. If the people have doubts, you must explain to them... We want the prices to go down," - one of the protesters says.
We remind that petrol prices have been regularly rising in Belarus for the second consecutive year. Only for the incomplete two months of 2020, the petrol price has risen eight times. Experts note that Belnautakhim may switch to a new scheme due to unresolved difficulties with oil supplies from Russia - motor fuel will rise in price several times a week.