Great Speech of Pavel Seviarynets in Homel
110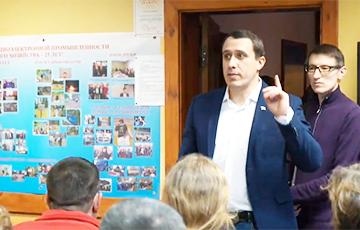 The Belarusians are waking up.
At a meeting with residents of Homel on February 25, co-chairman of the organizing committee of the party Belarusian Christian Democracy (BCD) Pavel Seviarynets, running for the role of a single opposition candidate for president of Belarus, urged "to join forces to change Belarus in 2020," reported naviny.by.
Pavel Seviarynets conducted a survey. He invited participants of the meeting, about 80 people, to write about the problems in the region and what anyone can do to change the situation. "These proposals will form the basis of the People's Program - an addition to the program of a single candidate, whom we elect," the politician explained.
"None of us wants our life to pass under one government ... And we need to decide how we can stop it," said Seviarynets.
Speaking about the political and social problems in Belarus, Pavel Seviarynets said that everything in the state "seems to have frozen," while the world has changed.
"What one has driven the country into! Someone has 18 residences, while people have new fines and taxes. The district executive committees sit still and think how to invent new taxes and suppress the poor people," said Seviarynets.
According to the politician, his team has answers to the question "what to do". "When the presidential elections are announced, when Yermoshina (chairman of the CEC. - ed.) and the falsifiers are left, when Lukashenka says he's ready to run the elections, I offer to initiate peaceful protests. Not after the elections are held. We need to break the scenario of falsifications as soon as they say that we will have elections. We can take a peaceful protest regularly," stressed Seviarynets.
Pavel Seviarynets believes that the Constitution of 1994 must be restored and the interim government brought to power. The politician sees the future of the country in the development of small and medium business, information technologies and the increased role of local self-government.
One of Seviarynets' proposals to introduce the "Lincoln Law" against corruption, when a citizen, who helps expose a corruptor, will receive 25% of the amount stolen was welcomed.
"Independent courts will consider such cases. The Belarusian budget will receive billions of dollars, as no one will want to be in prison. All those cottages, illegally built, will be returned to the budget," said Seviarynets.
In his comment to reporters that he was satisfied with the meeting: "There's progress. Many Homel citizens are ready to join the team of a single candidate, people are rising".