Expert On Protests Near 'Belneftekhim': Upper Limit Is Close
10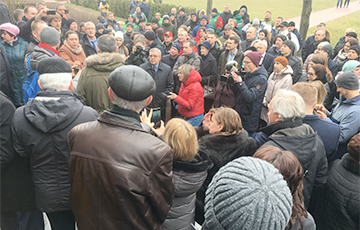 And the authorities understand this.
On the eve, a crowd of dissatisfied people gathered near the building of the state concern to find out why the prices for automobile fuel are rising. The leaders of Belneftekhim came to the protesters, and explained that prices were not rising, but changing.
Does this mean that the mood of Belarusian automobile owners reached a boiling point? Solidarity asked about the opinion of automotive expert Dzmitry Navitski.
"Rather, this is not a boiling point, but a signal to the authorities that the upper limit is already close," the source said in an express comment. "It will be difficult to raise fuel prices further on. And they understand that. I think that fuel will rise in price by another 10-15 kapeykas - and when a liter costs about 2 rubles, then everything will be suspended, so as not to cross this psychological threshold.
But the prices will rise in the near future. And it doesn't matter what people do: they may hold rallies, honk, block road movement or whatever - this will not change anything. Fuel will go up, at least to this point.
Dzmitry Navitski cited as an example a conversation with one of the Belarusian freight carriers:
- He has a small fleet of cars - around 15. Trucks. So he says that every kapeyka added to the price of fuel is minus 300 euros per month from the company's profit. And the margin of this business is now low, because trucks drive a lot, and consume much fuel.
Nobody will work at a loss. That is, with an increase, the rates per kilometer of cargo transportation will simply go up, too. And this kapeyka in fuel will ultimately affect the final cost of all goods. I don't know whether our economy will survive. We already have prices for many goods higher than those of our neighbors.
Speaking about whether car owners are close to the "boiling point", the expert believes that the problem is not in high gas prices, paradoxically as it may seem.
- I'll say an unpopular thing now. Fuel in Belarus is extremely cheap. If we look at Poland, then everyone drives small economical cars there. And here we are ... I'm standing at a gas station - and there are a lot of big cars around me with a flow rate of over 10 liters per hundred kilometers.
Guys, let's wake up! We are a poor country, we are poor people. Let's ride some Daewoo Matiz or Fiat Seicento that Poles ride. And we will be in reality.
Here you can make us president of trump, but he still will not lower fuel prices for us. You see, this is an economy, this is a market.
I hope that maybe this increase in the price of fuel will close unprofitable collective farms and enterprises. I would campaign for this. Enough to feed some conventional electromechanical plant, which is pumping a lot of money.
Our problem is not the price of gas, but the bad economy. And because of it, people live poorly and cannot afford to pay for gasoline. All these barriers, a huge number of subsidized enterprises. If the government changes this, closes collective farms, and gives loans to farmers, then I am ready to endure the increase in gas prices. And if nothing changes, and the price rises, then protests are inevitable " says Dzmitry Navitski.