Blogger: Sell Your Maybachs, Planes and Drive Skoda
66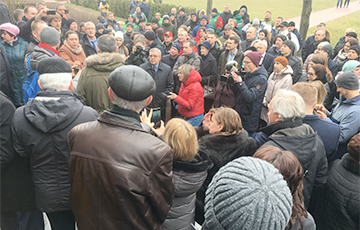 Protesting motorists have put forward claims.
February 25, several dozens of people claimed to explain the rise in fuel prices standing near the Belneftekhim building in Minsk. YouTube blogger Uladzimir Tsyhanovich (МозгON) initiated it.
Charter97.org talked to the blogger.
- Why did you decide to urge people to come and talk to Belneftekhim about gasoline prices?
- This situation has been ongoing for years. People I communicate with don't like it. Since May 2019 we have sent letters to various authorities. We asked them whether they respected the Constitution? How do you guys behave? The state pledged to support, "improve the situation" for its citizens, "create conditions" to increase personal welfare. In reality, the state has introduced such a peculiar tax on loyalty and tolerance. Growing prices every time for a penny, they watch where the border of this tolerance lies.
When I started to see into oil pricing policy, I disclosed many lies. In 2014-2015, when the price of oil became half cheaper, fuel prices did not change at all. In May 2019, it increased by 35% compared to 1 January 2018, while the ruble exchange rate was the same. We applied to Belneftekhim and asked to stop.
I offered people to send an appeal, gave them a form and said: "Let them answer". I made a video clip, which informed Belneftekhim that they neither see nor understand major things. Every time they raise the price of a penny, it increases the prices for goods in stores, for logistics, for garbage disposal. People just don't have any money left. In addition to fuel prices, the price for communal services and food products increases all the time. Business just dies out, there's no money left for it.
The first rally was held on February 5. I just said that I was going to Minsk Ring Road from 5 to 7 p.m. in protest against the fact that gasoline prices were rising. We have created a movement to identify ourselves. We have attached a red ribbon to the car so that we could see each other, and the authorities - how many people are dissatisfied with such fuel prices.
After all, the price of gasoline is rising in Belarus, while the oil price goes up (in early January it was $68, but now it's $58). In the end, I decided to go to the office of Belneftekhim and invited people to join me.
- What are your impressions of the action?
- As it turned out, many people came. Belneftekhim's reaction was unexpected. As a rule, they fence out with some turnstiles, but they came to the meeting. It's both good and bad. After all, I offered to talk normally, I came with the documents and even a suggestion to improve their site, but we never got an answer to our questions.
My request was as follows: to show what is the purchase price of 92RON, 95RON, 98RON and diesel. So no one could fool us. Some kind of arithmetic should be here. For example, you purchased oil at $400 per ton, which means gasoline costs 60 cents, you bought it at $500, which means 70 cents. I brought calculations for 2018 and 2019. Given price growth for a kopeck, it turns out that the overpayment amounted to Br1.000 for two years. At the same time, the Belarusian ruble exchange rate for 2019 remained the same against the dollar. However, they keep serving us "prices are not rising; just the ruble exchange rate is fluctuating". However, we had no good communication with Belneftekhim, because they tried to reduce to some strange suggestions: "Let me whisper in your ear about gasoline prices".
We offered Deputy Head of Belneftekhim Uladzimir Sizou, who came out to us, to meet with our specialists and talk about methods to lower fuel prices. We are ready to find 5 people who are competent in pricing. They could meet with the company and tell us, the people, about oil pricing. We repeatedly wondered if there was a person in the country responsible for fuel pricing at filling stations. There is no such person. We offered to appoint him.
- What do you think about the number of people who joined the rally?
- You know, we have great people. Every person who came, in a sense, overcame fear. After all, the Belarusian economy hangs on by a thread. To distract people's attention from economic problems, the authorities can organize a provocation. Therefore, I take a careful approach to this issue and explain people not to buy into provocations. That is why we do everything during the day and in public places.
- Belneftekhim's representative said that had already become a meme: "gasoline prices are not rising, prices are changing". How would you comment on this?
- The change in gasoline prices over the past year, in my opinion, was closely related to two facts of response to the policy of the authorities.
The first video on gasoline prices released in early June became a trendy one. After its release, they began to "cut prices" by a penny.
The second time it happened in September when I just drew attention to what they were doing. Then, the prices were also reduced.
It may be a coincidence, but we also put pressure on them because of car gas when we showed what was wrong. They reduced fuel prices only under pressure. If one remains idle, we'll get the answer that prices do not go up.
- One of the protesters said to the representative of Belneftekhim: "If you find out how much money I spend on gasoline, you'll go mental!" Has gasoline become such a burden for a Belarusian motorist?
- Those who live out in the country spend about Br400 per month on gasoline. Sometimes they spend 1000 rubles each. When half the salary and even more goes to fuel - it's too much. We must take into account that the state is trying to get a road toll and all sorts of fines for overspeeding. I've witnessed when there was a sign for 70 km/h, then a camera, then a sign for 100 km/h - it turned out that it was made to raise money. Car owners turned into milky cows. The trivial change in documents costs 50 rubles. People are very dissatisfied. The price of fuel is like torture.
- What, in your opinion, is a fair price for gasoline in Belarus?
- I believe it should be the price on 1 January 2018. It is minus 35% of the current price. This is also true in terms of income of Belarusians, who haven't changed much.
On the other hand, we offered the state to confess. Look how much fuel costs in Ukraine, other countries, and compare it to the level of income there. Meanwhile, Russia supplied us with oil at a 20% discount off the world price.
We still have 1.6 million tons of our oil, which we sell. Out of the total demand for 7 million tons of oil, we could still give minus 10-15% to the price of gasoline.
The authorities say that Belneftekhim is a state enterprise, not a commercial firm. So it is our gasoline, our money, and we have the right to improve the operation of this enterprise so that the price of its products could be cheaper.
Besides, they are monopolists, they do not let us set the market price. If there was such an option, now people would drive to Russia to buy in gasoline there and the price would be cheaper.
If the state is so poor, then it must sell planes, your Maybachs, drive Skoda and show that it also saves money.
We have proposed another option: if you want to be an independent state, then let people use more fuel-efficient cars. I had a Toyota Land Cruiser, it consumed 13 litres of gasoline, given that it worked on gas as well. I drive Passat, I consumed almost 5 rubles per 100 km there. It is much cheaper, but to drive such a car, one has to pay customs clearance of 2.5 or 3 thousand dollars. We sent a letter to the government: if you want to reduce dependence on Russia, then let your drivers move to more fuel-efficient cars, make zero customs clearance for hybrid cars, cars with small engine cc. They do not want to do it. Build methane gas stations around the country. They only build petrol stations.
It turns out that the authorities do not want to do anything, they ignore people's suggestions. They do not want to start saving, and we are offered to pay for everything.
- What would you like to say to the Belarusian drivers?
- Now this problem should be brought up for discussion.
So that all our "couch troops" to wake up and at least leave a comment and thereby show that the issue matters. If people are outraged by something, there is a chance to change the situation. If they tolerate it, then they agree to pay that price. The tax on tolerance is an ever-increasing price for fuel. By acting only, we can abolish this tax. The authorities backpedal then.