Lukashenka: We Had Hardly Agreed With Putin On Oil - In Evening, It Is No Longer There
37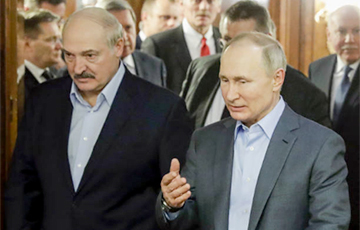 The dictator has complained about uncertainty in the compensation for the Russian tax maneuver.
Lukashenka stated that "ministers interpret his recent agreements with Putin regarding oil supplies in their own way". He made relevant statements today at a meeting with the chairman of the board of the Eurasian Economic Commission, Mikhail Miasnikovich, BelTA informs.
"We had hardly agreed with Putin that they would compensate by premiums or something else (it's their business) for the reduction of this duty (if, for example, we received $1 billion from the duty last year, and today we receive $700 million, then Russia will compensate $300 million), before the ministers interpreted our agreements with Putin in their own way in the evening. I take the record of the conversation: it is a clear, black and white agreement that the difference will be compensated to us. In other words, financially we will remain at the level of last year. But it's not there. Well, what kind of union is this," - the dictator said.
Lukashenka also said that the Russian companies were allegedly unreasonably insisting on paying them an additional premium when supplying oil to Belarus: "we'll sell you oil at the world price, but you will pay us the premium on every ton". "But the premium is paid to those who buy. If we buy a product, give us a motivation, give us a bonus. No! Why, because there are no proper rules. The right of power means to bend, to force. It's not normal. And there are attacks in the media every day: Lukashenka wants something. I don't want anything except what we agreed on," - the ruler stressed.
He also touched upon the pricing of natural gas supplied from Russia. "We are told: $127 (for 1 thousand cubic meters is a benefit). Do you know the price of American gas that Poland gets today, which should be turned into liquid state, brought here, regasified and supplied via pipe? $90!" - the governor said.
"We tell Russians (as they suggested): let's do it like last year. Last year, taking into account the oil re-charging (the re-charging procedure with regard to the part of the supplied Russian oil was cancelled in 2020, as a result of which the budget of Belarus loses considerable funds. - BelTA), it was $110-111. "No, give me $127". Today, gas is already traded below $100 on the exchange. Is it okay? What is this, a compulsion to integration?" - the dictator said.