Lukashenka: Protection Of Workers' Rights Is State's Priority
119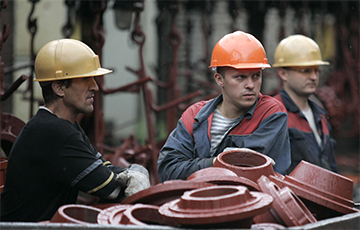 The dictator is talking deliriously again.
Today, Lukashenka addressed the VIII Congress of the Federation of Trade Unions of Belarus, BelTA informs.
According to Lukashenka, the goals of state development and interests of the people are tied up in Belarus. He notes that due to this unity, the history of the sovereign Belarus hasn't known the mass protracted confrontations and "exemplary" demonstrations of public organizations, the examples of which so often appear in international news.
"The Belarusian people have chosen the path of social dialogue, and we have repeatedly become convinced of its reasonableness and perspectivity," -Lukashenka stressed.
The dictator called this event a significant occurrence in public and political life of the country, which expresses the interests and demands of all able-bodied citizens. "We have every reason to assert that in our modern history, the trade union movement is a full participant in the construction of the country. We have created a state, the main values of which are people and fair treatment to them. This choice has predetermined the further development of partnership between the government and public organizations," - Lukashenka stated.
Lukashenka noted that today everyone - local "councils of deputies," associations of young people, women and veterans, trade unions - is working to create and ensure civil consolidation, he believes it is one of the main achievements. "As well as the fact that the protection of workers' rights is a priority area of the state development, - he added. - In Belarus, workers are protected as in no other country - starting from the Constitution to the recently adopted decree on early professional pensions".
The dictator noted that, as he was informed by the trade unions, the facts of late payment cause the greatest concern. " It is necessary to root it out mercilessly, not taking into account anything. The responsibility of heads of enterprises must be absolutely definite. They must pay the salary, come hell or high water," - the Belarusian ruler stressed.