Andrei Sannikov: Forget About Lukashenka
8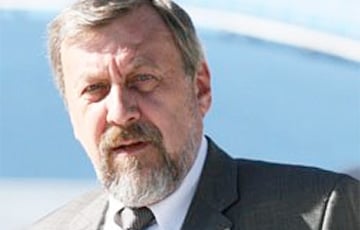 It is important that the United States supported the territorial integrity of Belarus.
In Minsk, US Secretary of State Michael Pompeo pointed out the importance of independence and sovereignty of Belarus. In this way, he made it clear to the Kremlin that the United States was monitoring the situation in the country. Pompeo also noted that the United States is concerned about the human rights issue, Andrei Sannikov, former Vice Minister of Foreign Affairs of Belarus, leader of the civil campaign European Belarus, said in an interview with Polskie Radio, commenting on the visit of the Secretary of State to Minsk (translation - Charter97.org).
This is a very important visit. Recently, the United States was absent in this region, its officials visited Russia, but there have never been such visits to the countries of the former USSR, including Belarus, says Andrei Sannikov.
During his trip, Michael Pompeo visited Ukraine, Belarus, Kazakhstan and Uzbekistan, but did not go to Moscow.
"100% of the needed oil": this is not serious information
According to Andrei Sannikov, the statements of Michael Pompeo at a press-conference in Minsk on the alleged readiness to supply oil from the USA to Belarus at a competitive price to cover oil needs by 100 %, should not be regarded as serious.
Firstly, Lukashenka's goal is not to supply Belarus with oil, he needs cheap oil supplies to be able to sell it at higher price to the West after refining, as it was before. As the politician emphasized, Pompeo spoke about competitive prices, which means that oil can be cheaper than in the market, but not cheaper than the special price that the Kremlin gave Lukashenka. Therefore, he will still seek cheap oil from Russia.
So far, Russia has not signed a supply agreement with Belarus - this is part of the pressure to "deepen integration".
As Andrei Sannikov predicts, in the end Lukashenka will receive oil from Russia, but at the cost of certain concessions.
- We have already observed such a policy of the Kremlin - imposing an increased pressure on Minsk, and then weakening it for concessions. The question is, what Lukashenka will give to Moscow this time: a wheeled tractor plant producing chassis for Russian missile launchers, the production of potash fertilizers or something else? - asks the politician.
"Forget about Lukashenka. What Washington did is important."
Recently, Russia has put extremely strong pressure on Minsk, demanding, for example, coordination of roadmaps for further integration. Lukashenka is very nervous, as can be seen from his statements. Russia puts more pressure on the Belarusian ruler than he can withstand. Will his policy change in such a situation?
- Let's forget about Aliaksandr Lukashenka in this context. The problem is that Lukashenka cannot defend the independence of Belarus, he himself poses a threat to independence. He needs independence so that he can remain in power. It was Lukashenka who created the model on the basis of which Russia wants to include Belarus in its composition. He himself created this dangerous situation, and most importantly - he is not looking for a realistic way out of it. Lukashenka continues to say that there will be no reforms or modernization, which means that he is not able to really defend the independence of Belarus, says Andrei Sannikov. - Therefore, it is good that the United States emphasized the importance of the sovereignty of Belarus, and earlier recalled the importance of the Budapest Memorandum. It is important that the United States supported the territorial integrity of Belarus.
Pompeo's visit to Minsk is also a signal for Russia that the Kremlin's plans that Moscow wants to promote are unacceptable - it's about plans to limit Belarus's independence, the source said.
No loan from the International Monetary Fund
According to Sannikov, Lukashenka may have turned to the United States for help in obtaining a loan from the International Monetary Fund (IMF), but due to the lack of reforms and modernization, he is unlikely to receive it. The former deputy foreign minister said Aliaksandr Lukashenka's long-standing practice is to deceive the West by asking for loans and getting cheap oil from Moscow. He intends to continue in the same vein.
According to Sannikov, Aliaksandr Lukashenka does not want to change anything in Belarus and enjoys Pompeo's visit only because he can use it in trade with Putin.
- Lukashenka can only aggravate the situation. In addition, he is afraid of Belarusians. He knows that people have long hated him, and fears protests. And at the same time, he wants to continue to remain in power," said Andrei Sannikov.
What's next?
In 2020, the next presidential election will be held in Belarus. Lukashenka wants to remain in power for the seventh term already, without changing anything, and this will cause a crisis in the country, " predicts Andrei Sannikov.
In his opinion, Lukashenka hopes that eventually an agreement will be reached with Russia on the issue of oil, and then everything will be as usual. It seems to the dictator that it is enough to survive this crisis and everything will settle down by itself.
However, according to Andrei Sannikov, Russia will not reduce integration pressure on Belarus, although for a short time, taking into account constitutional changes in Russia and changes in the government, Moscow can take a tactical pause, since internal issues will be a priority for it. "The Kremlin will simply stretch its plans in time," the interlocutor said.
Changes in Russia
What do the changes in Russia mean that give Lukashenka a break?
"Such changes were expected in Russia," says Andrei Sannikov. "I expected Putin to make changes earlier than before 2024. He is known for building complex plans and implementing them step by step," he added.
According to the former Deputy Foreign Minister of Belarus, what is happening is dangerous for Russia's neighbors, including Poland and the West. Russia is moving in a totalitarian direction, - says Andrei Sannikov. In his opinion, Dmitry Medvedev's removal was not a punishment. In the place of a Prime Minister, Putin needed someone with whom new plans would be taken more seriously. In Russia, they laugh at Medvedev," Sannikov emphasizes.
As Sannikov added, if you look back, you need to pay attention that Moscow theoretically justifies in advance those moves that it will make.
- We remember Putin's so-called Munich speech (that the collapse of the USSR was a geopolitical catastrophe) and we remember what happened next. The Kremlin currently wants to rewrite the history of World War II - Putin promised to soon publish an article on this subject. This alteration of history by the Kremlin is aimed at further feuds in Europe. In particular, Poland is one of the main goals of Russia's aggressive policy," said Andrei Sannikov. According to him, the conference in Yad Vashem, organized by oligarch Moshe Kantor, close to the Kremlin, provided the international rostrum to Putin. "President Andrzej Duda was absolutely right that he did not go to Jerusalem," he added.
"However, others went, and Israel acted as if no one there knows who Putin is," he said.
The Belarusian opposition politician believes that Russia is very pleased with the "Brexit" and, of course, intends to continue its activities in Europe to cause even greater disagreement. Russia will also continue to exert pressure on Belarus, Ukraine, the Baltic states, Poland and other countries.
"Who knows what they have in their heads regarding military plans. Russian generals are known for not stopping to plan wars," said Andrei Sannikov.
- We see Russian aggression in Ukraine, interference in Syria, Venezuela, Libya. In recent decades, Russia has strengthened and rearranged its army. There are no examples of Russia's positive influence on the world - only negative one," said the Deputy Foreign Minister.
There are other events that are alarming. As Andrei Sannikov recalled, writer Zakhar Prilepin, who fought in the Donbas on the side of pro-Russian separatist bandits and is part of an advisory group to amend the constitution, creates a new party, For Truth.
"Dangerous nationalist groups are gaining strength, enjoying the support of the ruling elite, and all this indicates the direction in which Russia will go with Putin," our interlocutor noted.