Stanislau Shushkevich: The Belarusian Authorities Practice the Chernobyl Scenario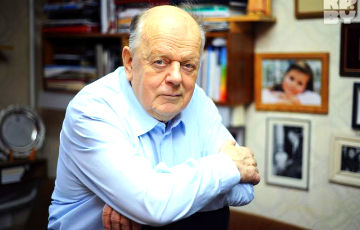 A crime is being committed in the country.
The first head of independent Belarus Stanislau Shushkevich commented in an interview to Charter97.org on the inaction of the Belarusian authorities amidst the coronavirus pandemic.
- How do you evaluate the measures taken by our neighbours to save their citizens?
- I constantly receive information from Poland in this regard. It seems to me that they take more decisive measures than in Belarus. Professionals deal with it in Poland. Belarus is far from the level of professionalism demonstrated by Poland.
- What else could you say about the actions of the Belarusian authorities?
- It's hard for me to say. I don't go outdoors often, as I am at risk of being infected. Judging by what I see from the window, I can say that either nothing or very little is done. The authorities adhere to the Chernobyl strategy: they keep saying "no panic, we have to get out of the crisis we are in". There is no care for people. They care only about power status.
It seems to me that within those clinical possibilities our medicine has, a dangerous situation may arise in the country.
- In Poland, a general quarantine was introduced before the number of people infected reached 68. In Belarus, even according to the Ministry of Health, the number of coronavirus-positive has already crossed this limit. Why do not the Belarusian authorities introduce quarantine?
- Lukashenka plays on repeat "do not panic"... Since our country is run by "the moustached C-student", both he and his entourage have a poor understanding of the problem. His mentors, Soviet-type people, once orientated him - to hush up problems.
- What consequences can such negligence of the Belarusian authorities lead to? What kind of losses can there be taking into account the state of Belarusian medicine and the health level of elderly people in Belarus?
- It may lead to terrible consequences. As they say, "it's better to be safe than sorry". The Belarusian authorities will feel sorry. Enormous problems are already being revealed: the new reserves are not mobilized. This must be done immediately. But the authorities care only about the welfare of the ruling clan, not about people. The ruling clan is secured enough to survive the pandemic.
- The Ministry of Health of Belarus, unlike its western colleagues, publishes information about the diseased irregularly and does not give accurate figures. At one time, you faced the silence of the USSR leadership about the Chernobyl accident. Does the policy of Lukashenka remind you of the crimes committed by the Soviet leadership?
- I immediately came up with such an association. I immediately remembered the events after the Chernobyl disaster. Our "moustached C-student" follows the Soviet era in footsteps. He does not care about people's lives. Note that he's not talking about saving the country's population. He says the main thing is "not to drown in the crisis". Once again, people are of high priority for the Poles, while we have retention of power. No organized work can on the prevention of the epidemic is observed. It will cause great problems.
Poland says little but the result is visible. Our people seek protection. One can find free gloves and a mask at a distant filling station.
- What would you say about Lukashenka's advice to treat coronavirus with a tractor, bathhouse and vodka?
- It's complete nonsense. The "moustached C-student" can't render a piece of professional advice on medicine.
- How do you estimate the actions of Lukashenka, who refused to introduce quarantine in schools?
- I believe that children are free not to attend schools at this time. If parents act consciously, they can introduce this quarantine themselves. I cannot explain why the state does not introduce quarantine. I assume it will bear repercussions.
Speaking frankly, crime is now being committed in Belarus. Under today's Belarusian laws it will be hard to bring them to justice. Lukashenka is the "law" to them. Lukashenka has brought up such an obedient team of yes-people. They just do not care. They are concerned only about Drazdy and places like it in regional centres.
- You have experience in public administration. What would you do in the situation of a dangerous pandemic in Belarus? What measures would you take first?
- When the secretary of the city council began to explain to me that there was no need to panic about Chernobyl, I told him: "You can teach me political sciences, but I will teach you nuclear physics". Unfortunately, I'm not a medical professional. The best thing to be done is to let medical professionals act. The Minister of Health is afraid to take the initiative. I suppose if he gives decisive advice that contradicts Lukashenka's speeches, he will be "guilty" and he will be removed from office.
- What would you like to say to Belarusians in connection with the pandemic?
- Look at Poland and do the same to avoid the Italian scenario.