Ejednevnik Editor-in-Chief Transferred To 'Valadarka' Detention Center
11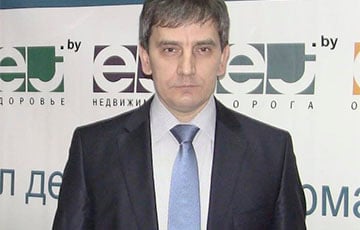 Journalists were questioned by the State Control Committee.
The employees of the Ejednevnik newspaper, whose Editor-in-Chief Siarhei Satsuk was detained on Wednesday, were questioned by the Financial Investigations Department of the State Control Committee of Belarus, the Belarusian Association of Journalists reports. Today it became known that Siarhei Satsuk was transferred to pre-trial detention center # 1.
Journalists Aliaksandr Satsuk, Vadzim Siakhovich, Andrei Aleksandrovich, and the chief accountant of the Ejednevnik were questioned today as witnesses in the case of Siarhei Satsuk in the Financial Investigation Department of the State Control Committee of Belarus.
Siarhei Satsuk himself was placed in the Minsk pre-trial detention center # 1 in the Valadarski Street. His brother Aliaksandr Satsuk has informed about this to BelaPAN.
He said that relatives have still not been able to pass a parcel to the detainee.
"They arrested him and brought him to the Valadarka detention center last night," he said. "So far, we have not been able to pass him a parcel. Half a day yesterday, his daughter stood in line at the detention center in the Akrestsin Street. When it was already her turn, they did not accept the parcels for him, because he was taken to the Financial Investigation Department, and then the reception of parcels for detainees was over. Siarhei Satsuk has been there for the third day, without even basic hygiene items.
According to his brother, today relatives have already headed for the Valadarka detention center, to try to pass the parcel again.
Aliaksandr Satsuk does not know whether any investigative actions will be carried out today in relation to his brother.
"They don't tell us anything," he said. "Yesterday, a lawyer called the person who leads the investigation team in my presence, and he said that no investigative actions were planned to be carried out with him yesterday. Nevertheless, they took him from the detention center and drove him to the Financial Investigations Department, that is, some actions were carried out.
Important to note, Editor-in-Chief of the Ejednevnik Siarhei Satsuk was detained on March 25 on suspicion of receiving a bribe. The next day, Euroradio published a text that Satsuk left to his colleagues, and asked to make it public in case of his arrest. On March 26, a search was conducted in the Ejednevnik office. It is also reported that the restraint in the form of holding in custody was imposed on the Editor-in-Chief of the well-known business online publication.