'In Case Of Outbreak, We Face Catastrophe'
49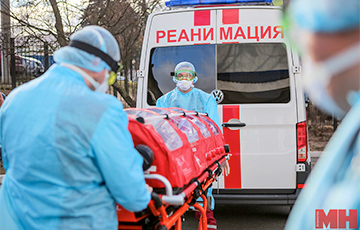 You only need to look at the state of hospitals in the Belarusian regions.
The hospital in Slonim is in terrible condition. People are afraid to get there. This was stated by the Slonim activist of the European Belarus Viktar Marchyk. The politician said in an interview with the campaign press-center whether the city will be able to withstand the epidemic:
- There are rumors that the spread of infection is ongoing in Belarus. According to the official information, no cases of coronavirus have been recorded in Slonim, but the number of diagnoses associated with respiratory infections and pneumonia is unknown - information about this was not disclosed at all.
Doctors are afraid of what might happen. If infections occur, then all patients will be sent to Hrodna. When Hrodna hospitals are full, then they will place people in the Slonim infectious diseases hospital. In Slonim, the hospital is not only in a bad state, but in a terrible state. People are afraid to get there. In case of an outbreak, we face a catastrophe. I don't want to blame the local authorities of having brought the hospital to such a state. Everything comes from the highest leadership here. If they invested in financing hospitals, and not in unprofitable ice palaces, pathos of military parades, airplanes, residences and everything else - we would not raise this issue now. State money goes to the entertainment of the "elites of this world", and medicine and education are left with nothing.
The fact that all over the world they impose quarantine and close borders, but we do not, is understandable. This is the election year, and Lukashenka is afraid that if quarantine is introduced, then his economy will completely collapse. He is afraid and panics himself. Although it is necessary to take measures: to ban mass events, regularly give information to people about how to behave, what steps to take, and to close educational and pre-school institutions. But this does not happen here because of the cowardice of the authorities, the dictator, and his entourage.
Due to the inaction of the Belarusian leadership, the infection will only spread. We all can get sick, many will not survive. I think that will be just such a situation, because time is lost.
Just a few days ago, a woman died here, she died quickly, suddenly, but they said that she died from pneumonia. This is information from the people who knew her closely, and doctors do not want to spread it. So there is a basis for suspicion.