Belarusian Doctor On Measures Of Polish Authorities Belarusians Need To Adopt
2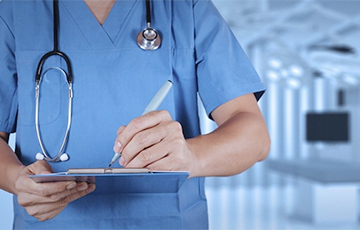 He has listed possible scenarios for the development of the pandemic situation.
Belarus Mikhail S. (at the request of the character the name is changed) works as a family doctor in public and private clinics. He lives in a small village in the Subcarpathian Voivodeship. In an interview, the doctor told how the work of medical institutions in Poland during the pandemic changed, and gave advice to Belarusians on how to behave during this period, writes gazetaby.com.
According to Mikhail, there are several scenarios for the development of the pandemic situation.
- Either the coronavirus will almost disappear, as was the case with the Spanish influenza or other flu, such as swine flu. Or stay with us forever in a diluted form. Time will tell.
I don't know how events will develop in my native Belarus. But in Poland, everything is likely to last another 2-3 months. Provided that people will behave responsibly, and the authorities and ministries of health will take the right steps.
What can be said for sure is that this pandemic revealed our weaknesses. Even in Western Europe, with advanced medicine.
What measures of the Polish authorities should Belarusians adopt?
- During an epidemic it is very important to limit contacts as much as possible. I think it's not worth reinventing the wheel, just do the same as most Western countries.
Quarantine. If possible, take your work home. Self-isolation is possible only with the help of the state: this is a credit vacation, freezing or canceling payments to the social insurance fund. Support for small and medium-sized businesses is needed, and so on. In Poland, all this is being implemented with greater or lesser success. Of course, not without the help of the EU.
Is such a scenario possible in Belarus? It's hard to tell. I am not an economist, I am a doctor. And all of the above requires significant financial resources.
In Poland, micro enterprises with up to 10 employees will be supported, mainly. They will not pay social security contributions. Small businesses can also receive interest-free loans in the amount of about 5,000 zlotys (1,092 euros in equivalent).
The doctor gave Belarusians some tips to follow during a pandemic:
- First of all, hygiene. Wash your hands. Do not touch your face. Practice self-isolation. Leave home only if necessary: to go to a store, pharmacy, and so on.
For us, this virus can be nothing more than a weak respiratory infection, but for the elderly and seriously ill people, it can end in a hospital and even death.
Recently, the Polish authorities tightened quarantine conditions, says Mikhail. People can go to and from work, as well as go to the pharmacy or store. Playgrounds and horizontal bars in the street are closed. Public transport works, the maximum number of passengers should be half the number of seats.
- Until Easter, the children will be at home. One of the parents of a child under 8 years old has the right to financial assistance - 80% of the salary. This what they pay for sick leave.
In polyclinics, everything works through info lines, patients receive electronic prescriptions by phone.
During the pandemic, the work of medical facilities in Poland has changed.
- In Poland, hospitals postponed all planned surgeries. They take only urgent cases, - says Mikhail. - In polyclinics, everything works through info lines. Both doctors of the first contact (family doctors) and narrow specialists. For example, otorhinolaryngologists, cardiologists, pulmonologists and so on.
The doors to the polyclinics are closed. Only after an introductory interview with a doctor, a patient has the right to come in for examination.
Mikhail got more work.
- Every day, people turn to doctors on petty matters. But there are good things. Since the beginning of the year, doctors are required to write electronic prescriptions. That is, a patient calls the clinic reception, or their doctor personally. The doctor prescribes medicines for people with chronic diseases, and tells the patient the prescription code. And the patient immediately goes to the pharmacy for medicines.
According to Mikhail, there are not enough disinfectants in Polish pharmacies and stores. There are also problems with protective face masks, because now everything goes through public procurement.
In Mikhail's office there are disinfectants, surgical masks, a disposable gown, goggles - in case a patient comes with suspected coronavirus.
- And this is in the state (public) clinic. Because the private sector is always a little better equipped.