"Wards Are Overcrowded In Minsk, Pneumonia Patients Are Not Tested For Coronavirus"
58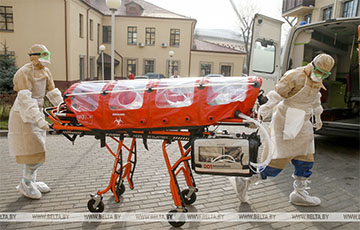 What's going on in the capital's clinics?
Pneumonia patients are not tested for coronavirus in Minsk hospitals. Several subscribers have informed the Basta telegram channel about it.
"My son is staying in the Minsk Hospital No. 5 with pneumonia. The wards are overcrowded, new ones are brought - three ambulances arrived in 40 minutes that I was there. There are a lot of people with pneumonia, everyone is coughing, but no one is taking the coronavirus test. The doctors say that only those "seriously ill" are tested," - a reader of the channel from Minsk writes.
Another reader of the channel from Minsk district, whose son has been hospitalized to Barauliany, also says that he hasn't been tested for coronavirus: "No, they haven't done it. Their arguments - he has no characteristic symptoms, and he's not at risk. He's lying in the cardiology department, he has been diagnosed with pneumonia".
Download and install the Telegram messenger on your smartphone or computer, subscribe ("Join" button) to the Basta channel and create the history of free Belarus.