"Basta": Coronavirus Outbreak Occurred In Minsk Multi-Story Apartment Building
18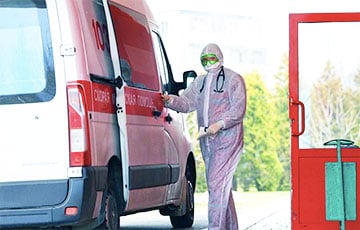 Ambulances with doctors in protective suits came to the house more than once.
Minsk, Savetski district, 9 Mirashnichenka street.
"A few days ago an ambulance took a girl with a suspicion of coronavirus at this address. This afternoon, doctors in protective suits came again," - a reader of "Basta" telegram channel reported.
Later it became known that the ambulances visited the house at 9 Mirashnichenka street in Minsk several times. At least one girl, living in it, had been previously hospitalized with suspicion of coronavirus.
Yesterday, the house was disinfected, and leaflets of Minsk city center of hygiene and epidemiology with recommendations for residents appeared on the message boards. They ask to avoid unnecessary trips by transport and to appear in public places less often.
Download and install the Telegram messenger on your smartphone or computer, subscribe ("Join" button) to the Basta channel and create the history of free Belarus.