Human Rights Defenders Demand to Reinstate a Student Seeking Quarantine
9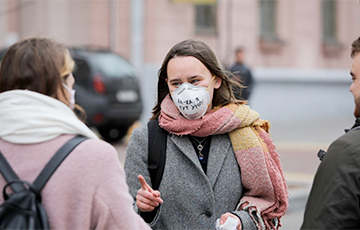 The issue may be brought to the international level.
The Human Rights Center "Viasna" sent an appeal to the rector of Minsk State Linguistic University, Natallia Baranava, regarding the expulsion of Elizaveta Prakopchyk, a student of this educational institution, reports spring96.org.
The appeal was signed by the chairman of the Human Rights Centre "Viasna" Ales Beliatski.
HRC "Viasna" expresses serious concern about the expulsion of a student of Minsk State Linguistic University, Elizaveta Prakopchyk, because of her active public position aimed at introduction of online learning due to the spread of coronavirus infection in the university," says the statement.
Human rights activists believe that the context in which the student was expelled should be taken into account. The World Health Organization has declared a pandemic of coronavirus infection and called on all states to take preventive measures. At the same time, Belarus does not take active measures aimed at the prevention of the spread of COVID-19, and does not close educational institutions, does not introduce online learning for students.
Elizaveta Prakopchyk has previously had some diseases (pneumonia, bronchitis), and she is guided by her health concerns. Accordingly, the reason for missing classes should be regarded in this case as valid, and the punishment should be cancelled as illegal.
HRC "Viasna" appeals to abolish the punishment and restore her rights as a student of Minsk State Linguistic University.
Otherwise, human rights defenders will have to inform the international community about the violation of the norms of the Bologna Process, the persecution of Prakopchyk, who defends her rights and those of other students during the coronavirus epidemic.
"We will also have to raise the issue of prosecuting the student E. Prakopchyk before foreign universities and other institutions that have educational and professional contacts with your university so that they will consider further prospects for cooperation," said the human rights defenders.
Besides, Elizaveta's associates have launched an online petition for her reinstatement at the university on petitions.by. They believe that her expulsion is unjustified and contrary to the provisions of the Code of Education and internal regulations of MSLU. Anyone can join the petition.