Belarusian Defense Ministry: These Are Not Military Hospitals, These Are Sanitary Isolation Facilities
12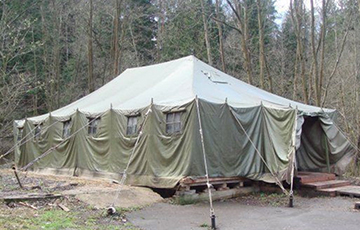 The military have commented on creating field facilities in the regions of Belarus.
Information about the creation of "field military hospitals" near Lepel, Vitsebsk and Barysau has appeared on the Internet.
"We're not talking about creating field hospitals, - spokeswoman for the Defense Ministry Natallia Haurusik told Radio Svaboda. - These are isolation facilities equipped with military specialists. The armed forces have their own sanitary and epidemiological service. Last week, military doctors held training sessions on mounting such isolators.
In some places, they were training the installation of such an isolator in barracks, and in other places it was being done in tents at the firing range. We worked on it because of the epidemiological situation in the country. It was decided to work it out again for the case of its deterioration. Such isolators cannot be called field hospitals".
The Defence Ministry spokesman said it's not about placing civilians or military personnel in such isolators. These facilities are not working yet and it is not needed.
The agency added that the isolation area equipped near Lepel has already been dismantled. So far the objects remain in Barysau (where the isolation area was made in barracks), as well as at the Lasvida firing range near Vitsebsk.
The Ministry of Defense reports that as of the evening of April 9, there were no cases of coronavirus among the Belarusian military.