Coronavirus Continues To Spread In Regions Of Belarus
33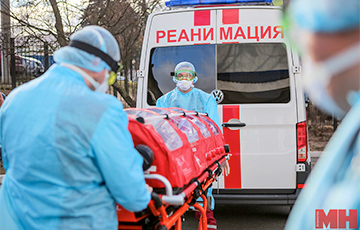 People are hospitalized by entire families.
New coronavirus data from the Basta telegram channel for the regions of Belarus, confirmed by several sources. The editorial staff of the channel received them yesterday afternoon and this morning.
Brest.
We take "Pneumonia" patients to the Brest Central City Hospital, there are a lot of them, the contacts are taken to the regional hospital. Yesterday night, we were transporting contacts, including a girl, who came from Vitsebsk with coronavirus, - an ambulance employee from Brest said.
Mahiliou.
"Yesterday evening, three ambulances came to 16 Turau street, a group in chemical protection. An entire family was hospitalized," - an eyewitness of the events writes.
Slauharad, Mahiliou region.
"A woman whose son returned from work in Russia, was hospitalized in the therapeutic department of the local hospital with pneumonia, the test for coronavirus confirmed. Four medics who worked during that shift, a barmaid, have been hospitalized, as well as the first level contacts, their family members, two of whom are children", - a subscriber writes.
The information about the hospitalization of the medics was confirmed by an employee of the Slauharad Central District Hospital. "Yes, the doctors are waiting for test results," - he wrote.
Staubtsy, Minsk region.
"The central district hospital is full of pneumonia patients, many people with symptoms of coronavirus are just left at home," - a source from Staubtsy reported.
Hrodna.
"The Hrodna Emergency Hospital has redefined one of its trauma departments (there are three of them in total) for self-isolation of medical workers. It turns out that each shift can be suddenly extended. This is, of course, commendable, but for the past week it has not been accepting patients for planned hospitalization, only the emergency cases," - a reader from Hrodna writes.
"At the end of March, the contacts of a guy who had returned from Sweden and has officially confirmed coronavirus were hospitalized in the infectious disease hospital. Two of them have already tested positive. The rest are waiting for the results," - an employee of Hrodna Regional Clinical Infectious Disease Hospital writes.
Download and install Telegram messenger on your smartphone or computer, subscribe (click the "Join" button) for the channel "Basta", and start creating the history of free Belarus.