Lukashenka Hides Truth About Number Of Deaths From Coronavirus
MIKALAI STATKEVICH
6.04.2020, 11:37

2,567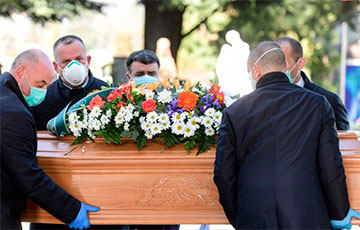 Belarusian doctors report terrible things about the real situation.
One of the leaders of the Belarusian opposition, Mikalai Statkevich, told in an interview to The Voice of America, that there's growing discontent with the actions of the authorities and distrust towards Lukashenka. "And now we see how the people working in the health care system overcome their fears and report terrible things about the real state of affairs. And Lukashenka tries to calm down the society, explaining that everything is fine. That is, his strategy, apparently, is to let us all get sick as soon as possible, someone will die, and these deaths can be attributed to pneumonia. The statistics are in his hands and the number of deaths can always be underestimated. Even if several thousand people die from coronavirus, this data can be hidden," - the politician says.
Statkevich believes that in order to reduce the level of danger, schools and universities should be transferred to distance learning, cinemas and parks should be closed and entry to the country should be closed. "All our neighbors have done so, but we haven't. And it turns out that one can come to us, but we can't go anywhere.
But Lukashenka acts within some crazy logic. He keeps demotivating people. No one knows how it will end.
There are alarm signals coming in now, especially from Vitsebsk region. There are over a thousand two hundred people hospitalized with pneumonia. This is our situation," - he says.
The Narodnaya Hramada leader calls the official statistics on the number of those who fell ill and died from coronavirus false information. "The first fatal case, which they (the Belarusian authorities - ed.) recognized, was the death of a famous actor of the Vitsebsk Regional Theater, Viktar Dashkevich. It was almost impossible to hide it," - Statkevich states. And he sums it up: "The information is breaking through. I do not know how the society will react when the mass death begins. And doctors, who dare to tell the truth - and there are more and more of them - say that we will have a very difficult situation. We - the leaders of the opposition - call for the people's quarantine, we recommend self-isolation, we advise not to let children go to school. On the other hand, the ruler on TV says: "Drink vodka!"
And I've noticed that in the district where I live, there are many more drunk companies. A lot of people are rejoicing that they can drink freely, and the police will not touch you - the ruler allowed it, saying that this is a cure for the coronovirus. And people who are not very educated, from the lower social classes, are willing to follow this c