Daughter of the Deceased Nurse: The State Did Not Take Care of Physicians When It Came to a Problem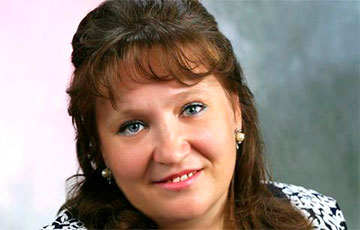 Svetlana Kiseleva has two children left.
On Friday afternoon there was information that two people died in Vitsebsk. One of them was a medical employee. The woman's name was Svetlana Kiseleva. She was 47 years old. She worked as a nurse at Vitsebsk City Clinical Hospital 1. Svetlana had two children left. Anastasia is 27 years old and Veronica is 7.
The nurse's daughter Anastasia Kiseleva says her mother worked there for over 20 years.
- Mother worked in neurology," Nastya tells tut.by. - Around March 13, patients who were there were discharged. It was told that patients with ARVI and pneumonia would be brought there. At the same time, no special robes or goggles were given to the doctors at once. Only 15 grams of alcohol to treat hands after work. That's all! We had respirators at home, mother took them to work. She said that some nurses put daily liners soaked in propolis tincture in disposable masks for protection.
In the beginning, new patients occupied about one and a half department. In neurology, where Svetlana worked, they were none. But colleagues asked nurses for help. The daughter can't remember how long her mother was on the help.
- Every weekend, mother took home her uniform to wash it," remembers her daughter. - When a 58-year-old patient died in hospital (the Ministry of Health reported that her coronavirus test was negative) she and other nurses were afraid to bring their uniform home. Then the head nurse recommended to her colleagues to soak everything in chlorine first.
In the afternoon of March 24, Svetlana's temperature rose to 37.3 at work, and she was sent on sick leave. According to her daughter, her mother was on sick leave for about a week. It wasn't getting any better, she asked for an X-ray. Two hours after that, mother was told that she had pneumonia and had to go to the hospital.
On Monday, March 30, she was hospitalized to her Vitebsk City Clinical Hospital 1.
- She told me that she was diagnosed with bilateral bronchopneumonia. When I asked her where she could have been infected, she answered: "At work". - While mother was in the hospital, we talked every day. I asked her then, "Is your hospital finally equipped?" She said, "Yes, they walk like snowmen. They provided with disposable paper gowns."
According to my daughter, her mother's fever was reduced by injections. Besides, she was given strong antibiotics and Svetlana felt sick from them.
- On Thursday night, she wrote to me that she had sputum discharge. It was good, but she felt bad. She complained about the antibiotic. But they told her if her fever remained, the medication would be replaced... Friday night, we were told she was dead.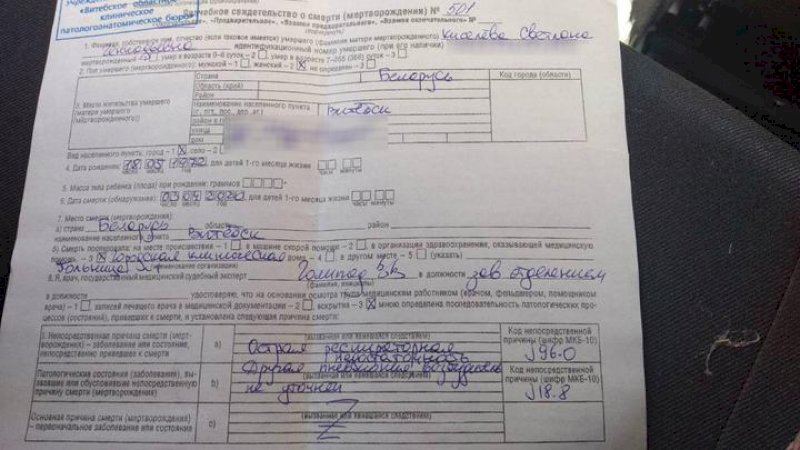 The certificate given to the family after the autopsy says that Svetlana died of "acute respiratory failure".
- Was she tested for coronavirus?
- Yes, on Tuesday, but no one gave us the results. The column "Pathological conditions (diseases) that caused death" says "not specified". The doctor told us it was about the coronavirus.
On Friday, April 3, during the regional headquarters to combat the spread of coronavirus, Deputy Chief of Vitsebsk Regional Health Mikalai Kaspirovich reported on the death of a medical worker, without giving the last name. A woman, he said, was treated for severe bilateral pneumonia of viral and bacterial genesis. So far, there have been no confirmed results of coronavirus RNA, said the regional health representative.
- Was your mom sick before this situation?
- She didn't have any lung-related diseases.
Friday night, says Anastasia, her stepfather was taken to the hospital with a fever of 39. They said he had ARVI. He had a text for coronavirus.
- I was given my mother's phone. Before she died, she wrote that she asked to be transferred to the ICU, but it was done only at 2 a.m. What did doctors do for two hours? - My mother was very fond of medicine and her job. She worked all her life in the same hospital, but the state did not take care of physicians when it came to a problem. The nurse died. My 7-year-old sister lost her mother.