Belarusians Driven At Subbotniks At Midst Of Coronavirus Epidemic: Details From Regions
29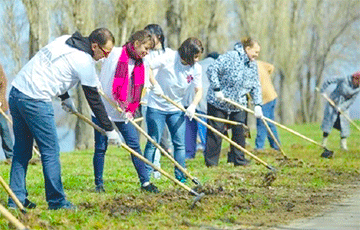 The situation in different cities of the country.
Despite the epidemic of coronavirus, local authorities hold subbotniks in a number of cities of Belarus, where they forcibly drive state employees. This was reported by subscribers from different regions to the Basta telegram channel.
Minsk. The hostel of the Belarusian State University of Physical Education, near the Arena, announced a forced subbotnik.
"The exact date has not been set yet, but it will be at any time. The students have already been taken to hospital from the hostel. A security officer with his family and a janitor are also in quarantine," - a subscriber of the channel reports.
On April 11, employees of Minsk Milk Factory №1 will also have a clean-up day.
"Dairy Plant № 1 announced a clean-up day on Saturday. The attendance is compulsory," - the channel subscriber from Minsk reports.
Hrodna. Subbotnik is scheduled for April 11.
"On Saturday, teachers and schoolchildren are supposed to plant greenery in the city. It is compulsory," - a subscriber from Hrodna writes.
Minsk district. Subbotniks will be held on April 11, 18 and 25.
"In order to intensify the work on restoring and maintaining proper order on the territory it is necessary to hold a month of restoring order on the land, landscaping and gardening from 01.04.2020 to 30.04.2020. In this regard, organize and hold subbotniks on April 4, 11, 18 and 25," - the resolution of Minsk district executive committee, a copy of which is available in the editorial office of the channel, says.