Sviatlana Kalinkina: Only In Our Country Patient Teaches Doctors How To Do Their Job
72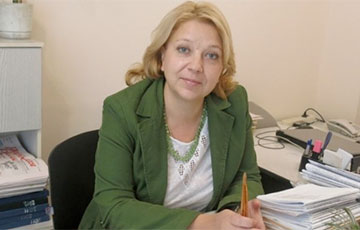 Belarus seems to be over the moon.
Renown Belarusian journalist Sviatlana Kalinkina published an article dedicated to the coronavirus epidemic in our country, on the Belarusian Partisan website.
"If anyone ever wondered how it feels to be in a madhouse in the midst of a pandemic - welcome to our country. Herein, this madhouse is very hospitable, everyone's invited. However, whether you will have an opportunity to leave it remains an open question. There is a risk. But still, you will never see such a spectacular show anywhere else.
Only in our country does a patient gather doctors to tell them how to do their job!
Only here, there's no "avalanche-like growth of infection", but rather "closer to the vertical" - yeah, the one that goes up!
Only in our country, all talks related to protecting people will inevitably lead to cows. So that cows would not suffer… You know what goes next.
Yesterday, Lukashenka gathered doctors to tell them about the coronavirus situation.
In the course, it surfaced that Minister of Health persuaded the state leader for several hours to face the coronavirus epidemic "front-like", which means a tight quarantine and everything else, like in the whole world. However, Lukashenka decided it's not how it should be done.
It suddenly appeared that prohibitions are not our tradition.
And then again, what an opinion of a minister, and "some people in the government" can possibly mean, when he is a specialist in every sphere himself. Moreover, there's a "familiar doctor" nearby, who contemplated on the issue in the close circle, like, how would it look to lock people in the hightowers; what will happen if the virus goes up the ventilation tube from lower to upper levels, it would be even worse… The doctor, apparently, mixed up the ventilation tube with a ventilator. Because, the ventilation tube actually sucks air from the apartments, not blowing it from one apartment to another. But why listening to the Minister of Health, when there is this "familiar doctor"? It's absolutely so not in our traditions. Our traditions provide for acting under the principle of the jungle telegraph.
Somebody told Lukashenka that we have prepared to the pandemic well. In mid-March, he was declaring everywhere that we had made so many masks we don't know where to use them, the healthcare system does not need this many.
Now, it turns out that there are not enough masks, you can't find them in pharmacies. And now he, as if nothing happened, threatens to dismiss the government, if they don't provide the sufficient amount of protective masks. Hardly have two weeks passed.
On March 31, when there were already 200 infected, someone told him we reached the peak of the epidemic. And this solemn news was based on the "digital analysis of the contagiousness". However, the infection rate has reached 861 today. It's a fourfold growth after the "peak". Where are we now? Over the moon? In some virtual space? Behind the looking glass?
Someone once told him it makes sense to eat butter during an epidemic, and this will ensure protection from the virus; someone recommended taking 50 grams of alcohol before going to sleep. Someone advised playing ice hockey, or going to a bathhouse. Somebody told people die in the street in America, as no one treats them there if they don't have medical insurance. And here, everything is not so scary, everything is under control. And he is trying to treat all of us with this delirium.
However, he does show a very touching care for the cows. The ruler is really worried of who will milk them if the whole country works remotely. And so far, not a single person could give Mr. Lukashenka a clear answer to this question. So that Mr. Lukashenka understands. Well, at least, this is how the ruler's spokesperson Natallia Eismant explained it.
I can answer this fateful question. With a couple of obscene words, which our state leader would understand. Because, when thinking whom to save, of whom to care in the first place - a cow or a milkmaid - I would definitely choose the milkmaid. On this issue, Lukashenka and I have long been in conflict.
It's another thing that I don't understand - why all these respectable doctors gave in to cows, and were sitting at the session with Lukashenka, looking down. This is really some sort of a madhouse. I'm afraid, our medicine is powerless here. This is surely incurable."