50-Year-Old Paramedic Died From Coronavirus In Barysau
12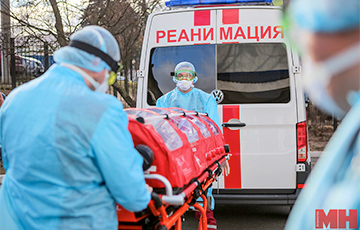 His colleagues have been swabbed for COVID-19, but they keep working.
On April 8, Vasil Lipilin died in resuscitation of the 2nd clinical hospital in Barysau. He was 50 years old, he worked as a paramedic in the ambulance. According to his colleague, Vasil had double pneumonia and a positive coronavirus test result. The deceased physician's colleagues have also been swabbed for coronavirus, tut.by reports.
Vasil Lipilin and his wife lived in the agro-town of Niomanitsa, 10 kilometers from Barysau. Together they ran a large farm.
According to his colleague, Vasil felt bad on March 28. That day his temperature went up, so he asked one of his colleagues to switch shifts.
- He thought he'd rest in bed for the weekend and everything would be fine.
But by Monday, March 30, it wasn't getting any better. Vasil complained to the polyclinic about the temperature and severe muscle pain.
Vasil was hospitalized in the afternoon of April 4, in serious condition he was taken to the intensive care unit of the 2nd clinical hospital in Barysau, in the evening of the same day he was connected to a ventilator.
Since the doctor was diagnosed with double pneumonia, he was tested for coronavirus. The first one was negative, the second one was positive. This was reported to colleagues on April 8.
His colleagues from the ambulance were also swabbed as first level contacts, but they continue to work. Three of them, according to doctors, are now on sick leave with low fever and symptoms of ARVI.