"Mom Came To End Of Ordeal, I Had Such Presentiment This Morning"
1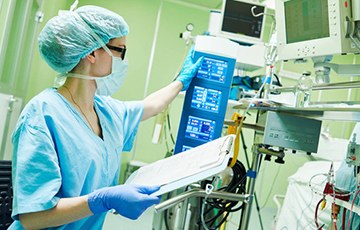 The story of the daughter of a 54-year-old nurse who died of coronavirus.
54-year-old Natallia, who worked as a nurse at the Correction and Development Training Center, died in Pinsk. The woman had double pneumonia. After testing for coronavirus, the infection was confirmed, media-polesye.by reports.
Natallia was in the hospital, she was on life support. The relatives received a call from the intensive care unit and were told that the woman had died.
- Mommy came to the end of her ordeal... I had such presentiment in the morning. And there were some missed calls on the phone. I called back. They said the intensive care unit... Well, I understood, - her daughter Katsiaryna says.
Doctors were waiting for Natallia in Minsk, but it was impossible to transport the woman. The relatives were hoping for assistance in the capital. They were afraid of not making it in time. And they didn't have time.
- I want to say thank you. I want to say thank you to the people. So that those who were ill could continue to respond to the requests of the sick. Concerning the plasma, to run, to help. Well done, people. About the doctors. Transfer patients to Minsk, to Brest.