Street Art With Harsh Criticisms Of Health Ministry Appeared In Brest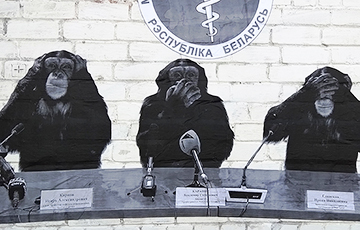 "I can't see, I can't hear, I can't speak."
Street art "I can't see, I can't hear, I can't speak" has appeared in Internatsyjanalnaya Street in the center of Brest, readers of the Charter97.org website report. This is how we can characterize the position of the Ministry of Health of Belarus regarding the situation with the coronovirus.
It "doesn't see" thousands of deaths from "unidentified pneumonia," as the coronovirus is clumsily called in diagnoses, shuts doctors' mouths, whatever they say about the real scale of the epidemic, and, accordingly, "doesn't hear" the public voice about introducing quarantine measures.