Minsk Doctor: By August, More Than Half Of Medical Workers In Country Will Be Laid Up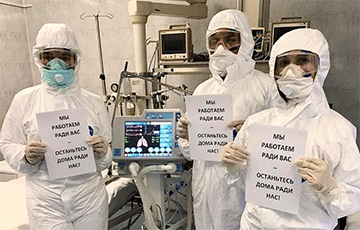 Who will treat people?
By August, more than half of the medical professionals in the country will be laid up. Who will treat people? A doctor of one of Minsk hospitals wrote about what awaits Belarus in summer, the Basta telegram channel reports.
"For the last three weeks we've been officially working on a three-quarter-time basis, although we actually work on all three, - she says. - We're not talking about any real significant extra payments, everything is beautiful and rich on TV only. Try walking for 16 hours in a bag with an apron, glasses and a mask. I'm surprised the mushrooms aren't growing on us yet.
I'm coughing myself, my husband is at home with a fever. The only reason we both have ARVI is because they don't do the tests for us as a matter of principle. You can only dream of getting a CT scan and only at the back of your mind.
The baby doesn't have any signs of illness yet, but it's only a matter of time. They're staying at home with my husband, he got a leave at his own expense, and it was with with moans and groans - a state enterprise. No illness, so no sick leave, survive as you wish. I can probably go on sick leave only with my feet foremost. By August, more than half of the medical staff in the country will be laid up. If the borders were open, they'd have run away by now. Who will treat people?
In general, do not believe the fairy tales about how well we are doing, we are stuck in a puddle with our naked asses".
Download and install the Telegram messenger on your smartphone or computer, subscribe ("Join" button) to the Basta channel and create the history of free Belarus.