Confession of Vitsebsk Nurse: I Can't Get Used to the Horror in the Eyes of Patients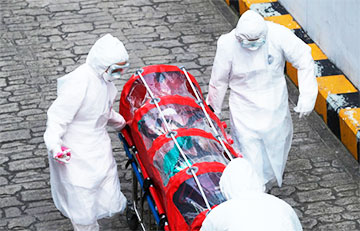 It's a shocking interview.
Vitsebsk was one of the first to face the coronavirus epidemic in Belarus. Absence of quarantine and inaction of the authorities drove the city to the infamous status of "Belarusian Bergamo".
The nurse from Vitsebsk hospital tells anonymously about events in the city:
- I can tell about the current situation with the coronavirus in Vitsebsk by the maternity unit I work in.
The maternity unit accepts patients only with "pneumonia". I saw the results of COVID-19 tests yesterday. They were positive. There are a lot of coronavirus patients.
For example, we transferred two patients to an observatory. As soon as they were transferred, two other patients took their place. One man was after surgery. However, he had COVID-19. A woman with oncology and metastases also had COVID-19. The man was under controlled sedation.
To be honest, I'm scared. The scariest thing is that people are not aware of the real danger of coronavirus. I constantly receive photos from shopping centers (I have not been there for two months). People do not wear masks. If I go to work, I wear a 3M respirator, gloves, and I hold a sanitizer in my hands. People look at me as if I'm crazy.
Drivers in shuttle buses are wearing masks and gloves. I have seen several people wearing PPE (personal protective equipment). I don't know how long they can wear them. It's very hard to wear it for 12 hours. I already have a bruise on my nose because I wear glasses. You come to work and you start to choke in three hours.
I volunteered for a month before I started working as a nurse in the hospital. Being aware of the situation, I did not think for a long time where to go. I immediately went to the "dirty area", with the greatest shortage of workers. When I had a pre-employment medical examination, one gently noticed that I was "nuts having decided to work here". On Monday, I brought my papers to the HR Department, and the head nurse told me that I would have a night shift. There's no one to work in the "dirty area".
- What was the most shocking thing?
- On the first day in the department, I was fully equipped and sent for two hours to learn the peculiarities of the work. You know, it's very scary to see a strong man who has panic and horror in his eyes. He takes a spoonful of soup and starts choking. He points at the mask. You put it on him and he can eat.
Our patients can't do without oxygen. They eat and talk wearing an oxygen mask.
A patient has been taken to a clean area for X-ray recently. One can't take oxygen there; it's not portable equipment. We were about to lose him. We used a spray to dilate his air vesicles.
Patients cough all the time.
You know, all the symptoms of coronavirus patients stick in the memory, but most of all they lack breath. That's the scariest thing.
One can clear one's throat. One can lie in bed unless one feels better. However, there are cases when patients feel so weak that they cannot even reach the toilet and we help them get there.
- What does happen to people breathing with ventilators? Are there really irreversible changes after their use?
- We don't have lung ventilators in our department, only oxygen masks. We have a man who has been breathing with a lung ventilator for a month and now he has hypoxic brain damage.
Indeed, there are irreversible effects after the lung ventilator. After a short talk with this patient, you can notice him saying strange things. The brain wants oxygen when one breathes with the ventilator and consequences of it cannot be fixed.
The physical state of a person can improve, but there can be mental problems. It happens sometimes.
- What complications do COVID patients have? What problems do remain while their discharge?
- First of all, their immune system is ruined. If there are comorbidities, sooner or later all their symptoms will take an acute form. I hear the death rate among people with oncology has risen in Belarus. They're at risk anyway.
Another dangerous complication is kidney failure. Patients on dialysis, as well as oncology patients, are at even greater risk than they used to be earlier.
- Medical professionals often report the deaths of young people in Belarus. What is a reason for it?
- Yes, there are many young and middle-aged people among those seriously ill. It may relate to irresponsibility.
When the epidemic just began, the elderly used to be a priority. Young people used to treat the situation carelessly. When I started wearing a mask and gloves, even my neighbours were surprised by it. But I told them to wait for a month or two. Now many people of 35-45 years old die due to coronavirus. We do hope that it will not affect us.
Children also fall ill. Vitsebsk regional children's clinical center also has COVID children. When I was a volunteer, we brought special masks for the children there. It was late May-early April. Now I see some children still going to school. Not everyone wears a mask.
Now I am wearing a 3M respirator because I understand that I am a first-level contact. Practical nurses and nurses are in contact with COVID-19 patients. We pick them up, wash them, turn them, carry out procedures. At the same time, our patients feel weak.
- What can you tell us about the number of active cases and deaths from coronavirus?
- In my hospital, I can see vehicles driving up to the morgue.
As for morbidity: I don't see the "downturn" the official media write about. Again, if two beds are free, two new patients immediately take them. When I was still a volunteer, I noticed ambulances driving fast in the city. It's still happening now. I've never seen so many ambulances before. They drive for a reason.
There are also many cases of coronavirus in the regions. For example, in Orsha. There was a severe outbreak in Dokshytsy.
That's why I don't observe a "decline". According to the rules, we must disinfect the room when patients are discharged. We don't have time for that.
- What cannot you still take during shifts?
- The horror in the eyes of sick people. When a person gets to the hospital, for example, with maxillary sinusitis, appendicitis, he knows that he will go home in a week or two. Now I see the horror in people's eyes. They don't know if they will survive.
The elderly raise the greatest concern.
It's also scary when you enter the ward at night and a patient asks you to stay for a while. This is the request not of an old lady or a child, but a strong man.
He wonders when he can be discharged. Medical professional usually say that "everything will be fine". I guess that even those who used to be skeptical about the virus now see how dangerous it can be.