Mikalai Statkevich: Belarus Longs for Changes. How to Get Them?
77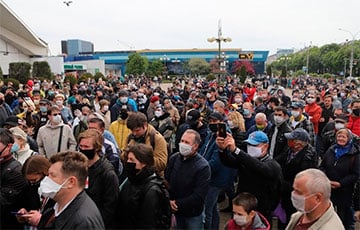 Now we need to support those candidates, who are ready to fight for victory.
Belarus doe not want Lukashenka anymore. People are tired of an inescapable situation. The country longs for changes, writes Mikalai Statkevich, one of the opposition leaders, on Facebook. How to get them, when the old-runner determine winners and candidates in the so-called elections?
Now we need to support those candidates, who are ready to fight for victory and defend it not sparing themselves. So far, we can see that only Siarhei Tsikhanouski's team has demonstrated readiness to fight.
Support Siarhei's candidate. It comes first.
But this is not enough. We already know who and how will check the validity of signatures. Last week Yermoshina, lied 29 times at the command of her master and refused to register 29 groups of opposition candidates. Including mine.
They would easily serve lies next time and call the signatures collected by Siarhei Tsikhanouski a "fake". Therefore, one needs to demonstrate the strength of the people to force liars to tell the truth and register a real opponent of the old-runner.
May 24, Minsk gave an opportunity to thousands of people to gather together and everyone observed the country longing for changes. Now it has to be done regularly all over the country.
While collecting signatures and authorized pickets, come to the centers of your cities at noon on Sundays of May 31, June 7 and 14. Sign for the candidates, listen to the speakers, speak out on your own.
We will give you a chance to do this. If there are many of us, it will inspire people, restore hope for change and force the authorities to abandon provocations against opposition leaders.
This comes next.
When the signatures are submitted for inspection on June 19, it will be necessary to continue to come to city centers on Sundays while officials "check" these signatures. We will not hold rallies not to let them drop on us. We will just come at noon and stand for one hour. Like we're here to feed pigeons.
Only tens of thousands in the squares will make registration of Siarhei Tsikhanouski's candidate possible. When the old-runner is afraid that the whole country can take to the square.
This comes the last.
We are fighting for a free and normal Belarus and are ready to support anyone who is ready to fight for victory.
This is the key point now.
Power to the people!
Stop the cockroach!