Homel Activist: No One Should Live Like This, People Want Changes
3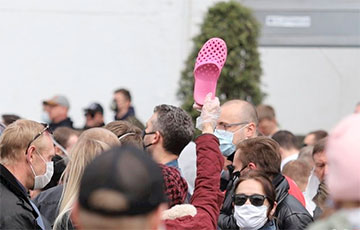 Literally everyone is against the current government.
Homel youth activist Yahor Mikalayenka told the press-center of the European Belarus civil campaign about the moods of the regional center residents.
- Our people are very discontented. Well, how can one like building a toilet for a million dollars, or a flagpole for huge money, when people live in poverty? Salaries in Homel, as well as throughout Belarus, are very low, about BYN 350-400. Only officials or IT pros get decent pay.
It seems to me that the time has come, people really want change. Even if you watch the stream from Baranavichy, or other cities where Siarhei Tsikhanouski holds pickets, then a lot of people come, much more than to all other possible candidates.
Changes are already being felt. Even if you ask around in Homel, then everyone is against Lukashenka. Everyone. Maybe someone has no courage to say it out loud, but in fact, there is no support for this person in our city. And now, when the legal collection of signatures is underway, you can clearly see how people are tired of what is happening, and want some changes already. Therefore, I think that there is a very high probability that the situation in the country will change this year. More and more people will come out, because you can't live like that anymore.
- You took part in a meeting with blogger Siarhei Tsikhanouski, which was held on May 7. Tell us how you evaluate the fact that now thousands of Belarusians are coming to pickets?
- Siarhei proved himself well, he travels to different cities, people really see this person. He talks to Belarusians about those things that worry people, speaks an understandable and accessible language. Tsikhanouski allows people to speak out, talk about sore issues. He actually raised the social layer, this can be seen in his streams. Pensioners, youth, completely different people come to the meetings. People sometimes do not get the whole situation, but they know that there is Tsikhanouski and want to come to meet him.