Homel Resident At Tsikhanouski's "Stop Cockroach" Event: Belarusians, Wake Up!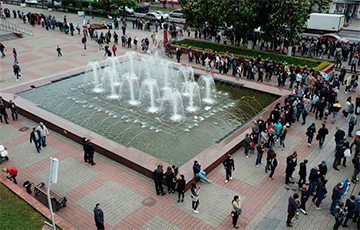 A woman in the queue in Homel made a passionate speech.
On May 28, there was a huge queue of people willing to sign for nominating presidential candidate Sviatlana Tsikhanouskaya, wife of video blogger Siarhei Tsikhanouski, in Homel. Volha, a woman from that queue, made a passionate speech in the stream of Radio Svaboda. She spoke about the situation in the country, about Aliaksandr Lukashenka and his prospects, euroradio.fm reports.
The Homel resident: "The most important thing is that there is no freedom of speech in this country. And if a man lives without freedom, he is a slave! And if he is a slave, he lives like that. So really, Belarusians, wake up... I am fed up of living at an all-time low like this... Young people are moving away, who will stay in this country? There will remain pensioners, with no one to feed them. He says: "I will give you the pension." It's not him who gives pensions, it's the young people who work. If they leave, what will happen here?!
We have to change something. And I believe that the credit for trust has long been exhausted to the man who's been 26 years in power. And he should just say, "I'm tired, I'm off." We are waiting for those words! Aliaksandr, please... Give way to the young!
...We have good, hard-working, competent people. How many highly qualified specialists we have here! And all these people are leaving because they will not live in a country with a dictatorship, a decent man wouldn't. Only a free country with free people can develop and raise something. Slaves will never do anything to anyone.
He once said on TV that for so many years they have not developed a national idea. I want to say: "Aliaksandr, you will never develop it, slaves cannot develop a national idea!" Only free people who see the goal, move somewhere... One can stay without food for three days, but without freedom, without a breath of air he will not survive even five minutes.
But, thank God, the people are awake, they have come and want to change something... The national idea is to build a country for life: for yourself, for your children and others. When everyone lives well, is happy, walks with smiles on their faces... And now we have to prove that we are sort of people... The sole traders prove that they are not "lousy fleas", the people prove that they are not "the little people". The power has distanced itself from the people. Why is everyone watching Tsikhanouski now? Because he associates himself with the common people, he's the only person who asked: "People, what do you want?" At least he asked. And at least the people could open their mouths. Because no one hears the people, the power lives on its own.
...We're just like quiet slaves, we have to work, we have to fill the budget, and they distribute that budget themselves, wherever they want... We hope that all this will change."
The Charter97.org website urges everyone to observe social distance.