Authorities In Panic: MIA Opens Criminal Case After Detention Of Siarhei Tsikhanouski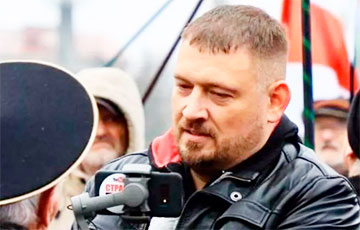 Independent media report that on the evening of May 29, a provocation was committed against a popular blogger.
The Interior Ministry commented on the detention of blogger Siarhei Tsikhanouski in Hrodna, according to the official Telegram channel of the office.
"On May 29, in Hrodna, in the Savetskaya Square, people were detained, including previously convicted, repeatedly brought to administrative responsibility, who "committed violence" against police officers of the Leninski District Department of Internal Affairs in order to "obstruct their legitimate activities." Among the detained, there is Homel blogger Siarhei Tsikhanouski. Investigators opened a criminal case for "violence against employees of law enforcement bodies". Physical injuries of varying severity were caused to two policemen, they are currently hospitalized," the message says.
Important to note, blogger Siarhei Tsikhanouski is held in the temporary detention center of the Kastrychnitski District of Hrodna. Dzmitry Furmanau is there, too. Among the detainees are also Yauhen Raznichenka and Mikalai Sayanik. Ten people altogether.
Sviatlana Tsikhanouskaya has informed that since she had not been provided with information about her husband at the Hrodna police department, where she called, she filed an application that her husband had disappeared, with the Pershamaiski district police department of Minsk.
Yesterday, on May 29, in Hrodna, during the picket to collect signatures, blogger Siarhei Tsikhanouski and nine other people were detained. Tsikhanouski walked among the people when a woman began to grab his sleeve, shouting: "Siarhei, wait!" Independent media report that on the the evening of May 29, a provocation was committed against the popular blogger.
Two policemen appeared in the square right there, one of them introduced himself as a district police inspector. A woman rushing at Tsikhanouski began to complain that he refused to answer her questions. The police tried to detain Tsikhanouski, the crowd began to push the blogger away from them. At some point, one of the law-enforcement officers was on the pavement. Police whistles were heard right there. People began to advise: "Siarhei, leave", but Tsikhanouski calmly replied that he did not violate anything.
Riot policemen appeared in the square, and detained the blogger. The detainees were taken to a minibus. Some of the detainees are held in the police department of the Hrodna Regional Executive Committee.