BBC: Tsikhanouski Raised Thousands Of People All Over Belarus
21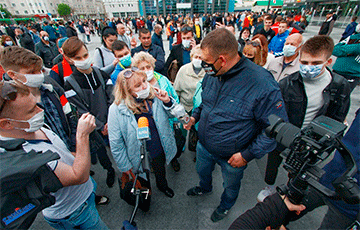 The authoritative edition has published a film about the folk blogger and the situation in our country.
"Belarus is preparing for the presidential elections - they are to be held on August 9," - the film of the British edition of the BBC, dedicated to Siarhei and Sviatlana Tsikhanouskis, pickets in whose support gather tens of thousands of people all over Belarus, says.
"According to human rights activists, last weekend 50 people were detained all over the country - collectors of signatures, activists of pickets in support of the candidates alternative to Lukashenka.
Blogger Siarhei Tsikhanouski is among those detained. His wife is registered as a presidential candidate, and he was collecting signatures in her support in Hrodna.
Tsikhanouski is often called "Belarusian Navalny". He runs a popular channel on YouTube, where he criticizes Lukashenka," - the BBC film says.