The Key To Victory
35
Natallia Radina
2.06.2020, 10:57

124,880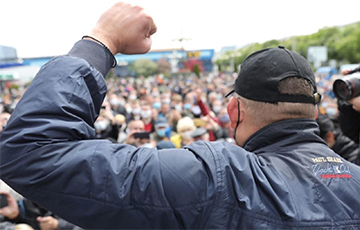 The longed-for freedom is just a few steps ahead.
It has become evident the majority of Belarusians today hate Lukashenka and want changes in the country. This is proved by the number of people that have taken to the streets in recent weeks; by the insignificant, not exceeding three percent, rating of the dictator; and by the growing proportion of people who used to be cautious and silent, but who now start speaking out against the regime.
Lukashenka has certainly chickened out and started to panic, but he's still clinging to power convulsively. Only for the last three days, well-known blogger Siarhei Tsikhanouski, head of the election headquarters of presidential candidate Sviatlana Tsikhanouskaya, has been arrested as a result of an obvious and shameful provocation; leader of the Belarusian People's Congress and the Narodnaya Hramada party Mikalai Statkevich, coordinators of the European Belarus civil campaign Maksim Viniarski and Andrei Voynich, and Young Front leader Dzianis Urbanovich have been sentenced to 15 days of arrest. In Brest, the bailiffs have distrained and seized the property belonging to the family of European Belarus coordinators Andrei and Palina Sharenda. The list is far from being complete, the trials continue. About 70 people have been arrested in just three days.
Now a lot depends on our reaction to what is happening. Silence or indifference of the society will be perceived by the rowdies as a signal for continuing the pressure. Therefore, we must not stop in any way.
Let us remember the facts. Lukashenka is an impostor, he is illegitimate, his reign is illegal. The world has never recognized his "elections" as free and fair. All his so-called government is a clique, all his so-called deputies are clowns and parasites.
The performance with Siarhei Tsikhanouski's arrest in Hrodna showed that today this bunch of power-hungry people rely only on prostitutes of all shades. All sane and reasonable people in the country are against them today.
Tens of thousands of people are taking to the streets of Belarusian towns. This is a huge force and huge potential.
Our strength is in solidarity and therefore, first of all, we must protect the leaders and insist on their immediate release. As a daughter of a military man, I know: if the banner of a military unit is taken by the enemy or lost, the military unit is to be discontinued. The arrested leaders, Statkevich and Tsikhanouski, are our banners. We must release them by any means. This is the key to victory.
All potential presidential candidates, if they call themselves an alternative to the dictator, must speak out for the immediate release of the political prisoners.
If they do not make these clear and explicit statements, but still mumble something ill-defined in broad terms, then they are not any alternative to insane Lukashenka.
To be united is not only a moral position. It is a demonstration of common sense, if you want. Let me remind you that in 2010, 8 out of 10 participants of the presidential "race" were imprisoned. Then Belarusians failed to protect their leaders, and the country was stuck in a swamp for another ten years.
If Viktar Babaryka or Valer Tsepkala divide people into "nationalists," "oppositionists" and "their own ones," then they are not able to become presidents for the entire nation. To do this, one has to go down from his nomenklatura "Olympus", go beyond the territory of his mansions and start respecting the people who have lived in trouble and need all these years and today have taken to the streets in search of justice. And also those who have risked their lives and health for the sake of free Belarus for many years. One should open his eyes and see that not only bank clients and HTP residents are in opposition to Lukashenka today, but the entire nation - workers, villagers, the liberal community.
We all need to stop relying on the capital's "miracle hero-knights," who will allegedly solve all our problems. There is a huge potential in each one of us.
I am sure that in all the towns, where long queues lined up to sign up for changes, there is a group of active citizens who are able to take responsibility and organize a nominal strike committee, so that they could start acting without waiting for "orders from the center". Actually, this is how Siarhei Tsikhanouski himself showed initiative and became the leader.
Enough of sweating it. Let's believe in ourselves and our strengths. The long-desired freedom is only a few steps ahead.
Natallia Radina, Charter97.org editor-in-chief