"I'll Sign for Everyone Who's Against! I Can't Stand This Face Anymore"
11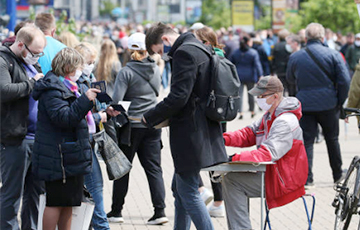 There is a dialogue with the 80-year-old woman on a picket in Minsk.
There was an interesting dialogue at the picket on the Kamarouka market. A subscriber of Basta! Telegram channel from Minsk told about it.
"I dropped into a store near Kamarouka at the weekend. I had national-labelled things with me. I needed funny postcards for those who'd been recently detained on a picket in support of Tsikhanouski. I saw a huge line to sign for him again. Although I, and not only me, thought that there would be no picket that day. It wasn't announced anywhere.
I'm standing at the crossing. An old lady of 80 years old approaches. She can hardly walk. I hear her expressing her surprise:
- What kind of a line is this?
- They collect signatures for one protest candidate.
- Why is one protest?
- This candidate belongs to the opposition. A framed criminal case has been opened against him. Now his wife is taking his place.
- How many people vote for him?
- Look at the line. Yesterday, people stood for three hours to sign. There are no fair elections under Lukashenka anyway. This collection of signatures is used more as an opportunity to legally speak out and announce it.
- What is his name?
- Siarhei Tsikhanouski. His wife is Sviatlana.
- Unfortunately, I haven't heard of him. I know about Babariko. He's a banker. He's also an opposition member. I signed up for him.
- Would you sign for Tsikhanouski?
- I'll sign for everyone who's against! I can't stand this face anymore! He's been sitting on our neck for 26 years!
An old lady signed for him. She went ahead of the line. One needs to respect the older generation and all those who are against him."