Pavel Seviarynets: Siarhei Tsikhanouski Is Our Belarusian Bogatyr
37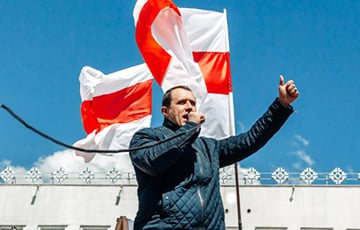 Something extraordinary happens in Belarus.
Belarusians are surprising the whole world these days: people stand for hours in lines of many kilometers to sign up for candidates of the protest.
August 31, one of the leaders of the Belarusian Christian Democracy Pavel Seviarynets held a picket for Siarhei and Sviatlana Tikhanouskaya in Vitsebsk.
Charter97.org talked with the politician about the situation in the country and its further development:
- One can say that a revolutionary situation is unfolding in Belarus; the citizens of the country stand against life under Lukashenka. His poor ratings, kilometer-long lines for changes, mass pickets held more than two months before the "elections" are an obvious answer to the question of what people need now. All other problems have fallen by the wayside: Belarusians do not want Lukashenka to run the country.
Thousands of people take to the centers of their cities and demonstrate their readiness to protest.
- What further steps should one make in this situation?
- On Sunday, June 7, legal pickets start throughout Belarus at noon. Teams that collect signatures will work in the center of cities. Belarusians have an absolutely legal opportunity to come and express their views regarding Lukashenka's seventh term, as well as to show solidarity with Siarhei Tsikhanouski, Mikalai Statkevich and other illegally detained.
The dictator is afraid and nervous; detentions and insults to the people is the result of this fear. During the last few days, Lukashenka has flagrantly violated the Constitution and the Electoral Code. He has no right to run for "presidential elections" anymore.
In this regard, we would like to see specific steps by those people (Viktar Babariko, Valery Tsepkalo), who perform as an alternative to Lukashenka during upcoming elections.
The first thing they need to do is to demand the release of the illegally detained people. This is a key issue. If they do not do it, they will put themselves in an ambiguous situation. One may think that they are part of Lukashenka's game or they are simply afraid. People who take part in a political campaign to change the regime must clearly understand that solidarity with detainees is the basis. If it does not exist, it means that there is no trust on the part of the people. The one who expresses solidarity will be taken as part of the solution to the main problem of all Belarusians. Those who keep silent or leave this question will be taken as a part of this very problem.
- What is the unique feature of current protests? Why has an ordinary Homel blogger managed to mobilize tens of thousands of people all over the country?
- The phenomenon of Siarhei Tsikhanouski is simple. It has served as a megaphone. He arrived and just gave people a microphone.
I was once very impressed by this way of negotiation: a leader or a politician arrives and allows people to speak out. People will voice issues of concern. That's the key to success.
In reality, nothing supernatural happened. Our people had a chance to speak out. Cameras are on, air begins, hundreds of thousands of people watch and say "that's the true truth!" People feel the unity. It led to success.
Siarhei Tsikhanouski is an ordinary Belarusian who realized that he could make a difference. At the same time, he can win people over. Frankly speaking, when one looks at him one thinks that he performs as a collective image of our people. The bogatyr (hero of folk Russian legends) just stood up, looked around him and woke up from his dream. "What are we doing here, friends? Let's demand changes! Why is one man trying to intimidate people?". These words of Tsikhanouski have reached millions of hearts.
That's why Belarusians long for putting an end to this regime as soon as possible.
In Vitsebsk, I've seen such a strong determination in people's eyes who were standing in the lines and at the pickets. They are still silent. However, they stand in line for freedom. These lines stretch for kilometers. The world sees it. These lines bring Lukashenka only problems. This reminds me of the look of a partisan, who leaves a hut looking for a better life.
However, the most striking view I observed in Vitsebsk is how an ordinary dissatisfaction with the authorities turned into a bright political and white-red-white protest. Many participants in pickets did not even know how to respond to the slogan "Long Live Belarus!"
However, one hour of native speech and red-white-red flags turned them into The People. These people came just to stand in line or observe the events finally became participants and the main driving force in history.
When the police approached to make some kind of announcement, people were just laughing or urged them to join. There was no fear. There was liberation. It was symbolic that it was happening on Freedom Square in Vitsebsk. People who at first did not believe that something could change in the country turned into a free people in literally one hour.
I was very impressed. It reminded me of Uladzimir Karatkevich and Vitsebsk: as if the legendary times are coming back when our people demonstrated marvels of will and courage.
I'd like to address everyone who has already been and who hasn't been with the awakened people: the more of us take part in legal pickets, solidarity events this Sunday and the days to come, the more chances Siarhei Tsikhanouski and his comrades-in-arms will have for the release. The longer Lukashenka holds blogger Tsikhanouski in prison, the more Siarhei becomes a national hero. Later, Lukashenka cannot do anything about it. Siarhei should be released. It's time for Lukashenka to resign. People come - Lukashenka resigns!
- How do you think the situation will develop this summer?
- The only thing Belarusians need to do is to take their step to freedom.
One should realise that the signature for an alternative candidate and even a vote at the "elections" do not solve our main problem. Unfortunately, the elections are falsified.
A legal picket, a protest or a nation-wide strike can solve everything. Because the number of people protesting people shows that we have reached a fundamentally new level in political life. This has never happened in the recent history of Belarus. I think that there have been no such examples in world history either: two months before the elections thousands of people stand in such long lines.
I have never seen anything like that. This is something unique in Belarus, something new. I think it does not contribute to Lukashenka, but it does promise freedom to the Belarusian people.