Viktar Harbachou: Lukashenka and Co Can Pack Their Bags
73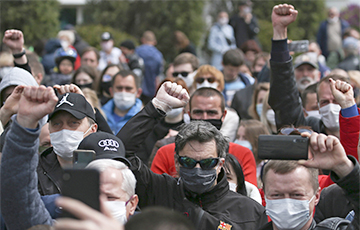 Belarus will have a new president this year.
Entrepreneur and blogger Viktar Harbachou stated this in an interview with Charter97.org:
- Lukashenka is making mistakes, taking wrong steps, stepping away from the people. The situation is so desperate that he is simply cornered.
The population is increasingly dissatisfied with the situation. Earlier he used to visit a village and start talking about politics, everybody said everything's accepted but a war. Today 29 out of 30 people start spitting when they hear the name of Lukashenka.
Wherever you go, Belarusians speak out about the situation in the country. People isolated from information talk about Siarhei Tsikhanouski, Viktar Babaryka. They know everything. Today we see a confrontation of 97% vs. 3%.
Our young people have stood out. I see how smart our young people are. They are not allowed to evolve here and express their point of view. They believe and inspire others. They unite people around them. They long for changes and know that if they do not happen, it will be impossible to live in this country. Everyone is ready to go through thick and thin and say that they will not back down this year. Young people have nothing to lose.
Solidarity of Belarusians is already walking around the world: from Warsaw to Haiti. It moves to tears. People say that they are with us, ready to support and even return.
Young people, who did not think about politics 3-4 years ago, are standing on the Square today. They unite, hold white-red-white flags and say that they are no longer afraid.
- Are there any analogues to the events or is it anything specifically ours, Belarusian?
- It is something Belarusian. Many people say that we tolerate for long, charge up, nurture plans and ideas. This is our Belarusian mentality of calm, good and kind people, who finally rise. People have realised that no changes can come with Lukashenka. Nobody will ride a white or grey horse to save us.
People have awoken: "Everything depends on us. We have to take control of this situation, change it and live in a completely different way.
We are not in North Korea. Belarusians have travelled abroad, studied and worked. They see how one can live, what one should do for it. Everyone has concluded that solidarity can help us.
Yes, it will be hard, but our solidarity should overcome these cowardly three-per cent authorities this year.
- Who has been the greatest breakthrough for you in this campaign?
- When travelling around Belarus 10-15 years ago, I noticed the necessity of people to speak out, share their problems. Siarhei Tsikhanouski made the right choice - he stepped into the masses, got interested in the problems of Belarusians. They shared everything with him on camera.
There was no need for people to go to the Square; they were standing next to a river or a village and told the truth. When Belarusians opened up and shared their problems, they realized they were not alone. People surfed Youtube and saw that Salihorsk, Barysau and Krupki had the same problems. It means we should bring some changes.
I don't know who encouraged Tsikhanouski, but this is the right political and technological move. One should start from the bottom. They need a good talk and the way to Drazdy. Tsikhanouski did it and showed them a peaceful way. People stand in kilometre-long lines at pickets.
Yeah, it's scary, but we're together. If it worked out on Kamarouka, it will be possible to pave our Baltic Way, as people used to line up from Vilnius to Tallinn. We have beautiful ring roads in Minsk. One can try it and then besiege Drazdy.
- Many people note that this year is extremely unfortunate for Lukashenka - disputes with Russia, coronavirus, water collapse in Minsk. Is this a coincidence or a pattern?
- It's not a coincidence. A long period in power blunts consciousness. It seems that the old methods can still work out.
The oil issue is still out of the question; people take it as a game. The coronavirus has become a world problem and shocked the Belarusians.
Lukashenka's soap bubble burst during the COVID-19 epidemic when he insulted people. Belarusians burst into a discussion, compared lies and reality. It gave them an idea that they would not tolerate it anymore.
The parade became the last nail in the coffin. People decided to put an end to it.
- The nicknames "cockroach" and "Sasha three per cent" stuck to Lukashenka and he even began to resent them. Are they too accurate?
- Lukashenka comes from a village and knows that if someone in the village has a nickname, it sticks to him forever. He even managed to mention them on camera. What a shame.
The person sought it for a quarter of a century and finally deserved it. Now everyone knows about his nickname: both Trump and Putin. Lukashenka is now hiding in one of his 18 shelters being worried that everything has become clear.
- People who have been supporting this regime for a long time speak out in support of changes. Do you think their views have changed or are they doing it intentionally?
- As people say, it's a good nose. People who have been at the trough for a long time have a light bulb on at a certain moment. It signals that one needs to change the side. They feel that something is about to happen. It gets on their nerves and they try to show that they seemed not were like that during those 26 years. They apologize and say that they see what a bad person Lukashenka is. It's a common thing when some changes occur in any country.
I do not want to call them rats who forsake a sinking ship but it looks like that. Those with the better nose are the first to forsake, while those with worse nose hold on to Sasha 3% and think that the ship does not sink.
- Can the current course of events cause a split in Lukashenka's vertical?
- If we look at the top, they've all been selected in 26 years. They are so corrupt that they will follow Lukashenka to the end, as Kachanava said. So I do not think that there will be any split.
However, the split has already taken place in the minds of Belarusians. Babaryka has been jailed. Bankers, the whole sector of middle and high-class businessmen support him. If people take to the streets, this elite will help. Now everyone is waiting for a hit.
The water issue turned out to be a hard blow to the image of Lukashenka and the authorities. They can't cope with anything. People self-organized. Again.
Accordingly, there's no need to hope for a split between the elites and the upper classes. One should paddle one's own canoe. That's enough to make a difference. Lukashenka and Co can pack their bags.
- Will Belarusians serve new surprises?
- I can say for sure that everything will not end in another victory of Lukashenka for the authorities. Anyway, if neither Babaryka nor Tsikhanouskaya is registered, there will be a very large protest electorate. There will be a boycott held in original Belarusian ways. I can say that there will be a new president in Belarus this year.