During Search At Tsikhanouski's Place: "Look For Banned Substances!"
120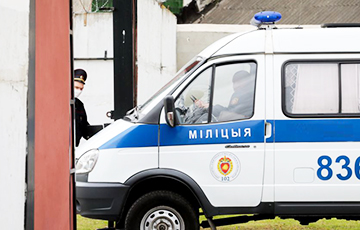 The search at Siarhei Tsikhanouski's dacha continued all night.
The search at Siarhei Tsikhanouski's mother's dacha has been going on since 3 p.m. yesterday. A friend of the national blogger, Ihar, is there, Radio Svaboda reports.
"Three searches have already taken place. The witnesses have changed three times. The chief came and asked: "Have you found any banned substances?" - Ihar told reporters.
"They are looking for something and can't find it. Three protocols have already been drawn up, the whole house has been searched three times, the whole yard - the bathhouse, barns, toilets. The investigators call the authorities, and they are told: 'Keep searching' - and they are searching for something again," - Tsikhanouski's friend said.
According to him, the investigators have found a lot of documents relating to Siarhei Tsikhanouski's business activities. "More than 200 files with documents have been confiscated, and they didn't even specify what was in them, they were grabbing all the papers starting from 2003, 2006. I don't know why he has saved them. The walkie-talkies have been seized - almost children ones, primitive, they were used a long time ago, when Siarhei was making commercials," - Ihar added.
Ihar said that Siarhei's mother was not feeling well, she has a heart condition and she asked the investigators to let her go to Homel - she has medicines there. "The investigators said they have the right to carry out their work at night, if it's urgent," - Tsikhanouski's friend said.
We remind that on May 29, during a picket to collect signatures in Hrodna, blogger Siarhei Tsikhanouski and nine other people were detained. Independent media report that there was a provocation against the people's blogger.
A criminal case for "violence against the police under Article 364 of the Criminal Code" has been initiated. A total of 9 people have been detained in the criminal case of alleged violence against police officers, which was initiated after the provocation at the picket in Hrodna. They are Siarhei Tsikhanouski, Yauhen Raznichenka, Zmitser Furmanau, Uladzimir Navumik, Viarhili Ushak, Aliaksandr Aranovich, Siarhei Kalmykou, Vasil Babrouski and Artsiom Sakau.
Three of those detained after the provocation at the picket to collect signatures have been transferred to pre-trial detention center-1 in Volodarsky Street in Minsk. Nothing is known about Siarhei Tsikhanouski's whereabouts.
In the evening, on June 8, the 10-day limit, when the detainees are to be charged or released, expires.
Human rights activists have recognized Siarhei Tsikhanouski as a political prisoner.