Siarhei Tsikhanouski's Summer Cottage Searched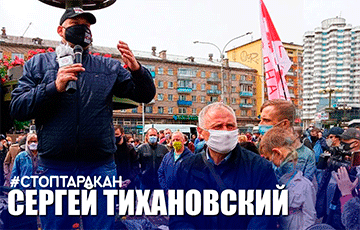 The authorities are pushing the Belarusians to revolt by their actions.
Siarhei Tsikhanouski's summer cottage near Homel has been searched. Blogger's wife Sviatlana Tsikhanouskaya informed about it, tut.by writes.
According to Sviatlana, the search was carried out at the family cottage, where Siarhei Tsikhanouski often comes to have a rest. Yesterday in the morning, the investigators called the blogger's mother, who is now with Sviatlana in Minsk, and asked to come to the cottage, which is less than 30 km from Homel.
- His mother explained that she was in Minsk. They said that if she didn't come, they would issue a ruling on breaking into the door. I told them to come and pick her up, there's no point in breaking the door down. The investigator and the driver came to pick up his mother and took her to the summer house. That's where they're searching now. Mother has a heart condition, our friends came there to support her. Siarhei spent a lot of time at the summer cottage: he was resting, travelling around, - Sviatlana said.
What caused the search at Tsikhanouski's dacha is unknown.
We remind that on May 29, during a picket to collect signatures in Hrodna, blogger Siarhei Tsikhanouski and nine other people were detained. Independent media report that there was a provocation against the people's blogger.
A criminal case for "violence against the police under Article 364 of the Criminal Code" has been initiated. A total of 9 people have been detained in the criminal case of alleged violence against police officers, which was initiated after the provocation at the picket in Hrodna. They are Siarhei Tsikhanouski, Yauhen Raznichenka, Zmitser Furmanau, Uladzimir Navumik, Viarhili Ushak, Aliaksandr Aranovich, Siarhei Kalmykou, Vasil Babrouski and Artsiom Sakau.
Three of those detained after the provocation at the picket to collect signatures have been transferred to pre-trial detention center-1 in Volodarsky Street in Minsk. Nothing is known about Siarhei Tsikhanouski's whereabouts.
In the evening, on June 8, the 10-day limit, when the detainees are to be charged or released, expires.
Human rights activists have recognized Siarhei Tsikhanouski as a political prisoner.