This Is How Siarhei Tsikhanouski's Studio Looks After Search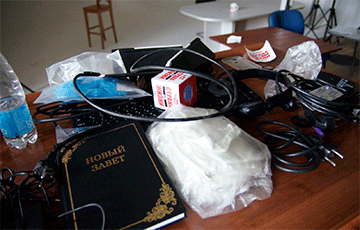 The room hasn't even been sealed up, the door hasn't been locked.
Yesterday there was a search in Siarhei Tsikhanouski's Homel studio at the Kastrychnitski hotel. Now the broken studio doors are open, not sealed. Lots of things are scattered, Radio Svaboda reports.
According to the hotel staff, the search took place from early morning until 4 pm.
"Two policemen in uniform came, one in civilian clothes and two others unknown - maybe they were witnesses to the search. There were also several officers of the Ministry of Emergency Situations - they broke into the door, an old wooden one. It is not clear what they were doing here for so long.
After the search they took out boxes with something, files with documents. We don't know what they took. It seems that the coffee machine disappeared from the studio," - the hotel employees explained.
They are worried that the room has not even been sealed, the door is not locked and the hotel is responsible for this.