Mahiliou Residents Call Off Signatures For Lukashenka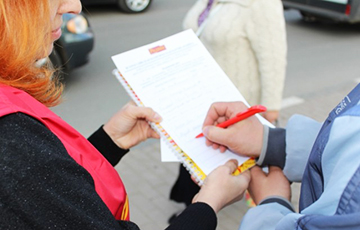 Earlier they were forced to put their signatures for the dictator.
Mahiliou residents began to call off their signatures for nominating Aliaksandr Lukashenka for presidency. They submit relevant statements to the district election commissions, mspring.online reports.
Journalists have published the statements of residents of one of Mahiliou hostels, V. Harbuzava and Aleksei Nikitsenka. They both said that the hostel employees came to them during working hours on May 26th and demanded to sign for nominating Lukashenka as a presidential candidate.
Harbuzava says the signatures were collected by the janitor and hostel manager. The woman was afraid that she and her children might be moved out of the hostel before the due date, so she signed.
"I had to sign. I'm a mother of three children, got an apartment, but I can't move into it yet, as repair work is being done there," - Harbuzava explains.
Nikitsenka said that the janitor had come with the same demand.
"I repent of my actions and ask you to call off my signature for this candidate," - the Mahiliou resident wrote in his statement.
Information about the forced collection of signatures for the dictator has appeared in the media and social networks. Viktar Babaryka has listed these data in his complaint to the Central Election Commission and proposed not to take into account the votes forcibly given for Lukashenka.