New Prime Minister Of "Sasha 3%" Is Known
101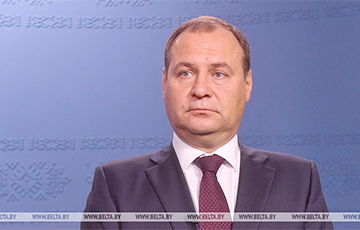 Who has taken this position?
Raman Halouchanka, former head of the State Committee for Military and Industrial Development, has become the new Prime Minister of Belarus, tut.by reports.
We remind that on June 3, Lukashenka dismissed the previous government.
The former prime minister is not included in the new government.
- There are no big claims, but the man wants to run a business. I welcome it - Lukashenka said.
Halouchanka was born on August 10, 1973. In 1996 he graduated from the Moscow State Institute of International Relations of the Ministry of Foreign Affairs of the Russian Federation with a degree in international relations, in 2003 - from the Academy of Management under Lukashenka. He began his career in the Soviet Union, in 2002-2005 he was Deputy Head of the Department of the Prosecutor General's Office, worked in the administration of Lukashenka and the State Military and Military Industry Committee. In 2013-2018, he was Belarus' ambassador to the UAE.
In August 2018, he was appointed Chairman of the State Military Industrial Committee.
Lukashenka has also appointed a new government.