Eva Sapryhina: Regime Has Got To See That There Are Many Of Us
2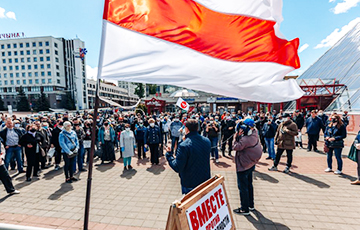 Solidarity can bring the fight to any orders and decrees.
Eva Sapryhina, activist of the European Belarus civil campaign, told the campaign press service why it's important to show solidarity and go to the legal picket, which will take place in Minsk at 18.00 near GUM on June 5:
- Today, it is important to understand in our country what solidarity is. If you see that a person does some important work, defends the rights, considers it necessary to fight for the truth, then you should support those who do it. This is why I think it is very important to support people who want to change the situation in our country, including the Tsikhanouskis and other leaders who are uniting at this difficult time.
The regime must see that there are many of us. Everything we do is for a reason, it is not for nothing. We believe that truth, justice, freedom are paramount. We are not just a mass of people who are ready to obey some obscure decrees and orders like cattle, but we are those who can unite and fight back, show that we can live worthily, be a nation.
If the Tsikhanouskis have inspired people to make Belarus free, then of course - it makes sense. So, come to the picket near GUM in Minsk at 18.00 tomorrow. You will not just put your signature, but express your solidarity with all those who want to change life in our country for the better.