Hrodna Activist Uladzimir Artsyman Detained in "Tsikhanouski's Case"
5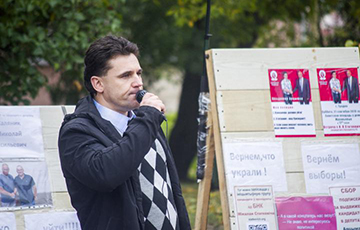 The activist was abducted by John Does.
The activist of People's Hramada Social Democratic Party, Uladzimir Artsyman, was detained in Lida. Viasna HRC informs. The details of the detention are being investigated.
People's Hramada reports the activist was abducted by John Does.
It will be recalled that volunteer of Sviatlana Tsikhanouskaya's initiative group, Uladzimir Kniga, was detained yesterday. He was taken to an unknown destination. Later it became known that the man was detained under the same criminal case as Siarhei Tsikhanouski and other picketers in Hrodna on May 29th.
The coordinator of Sviatlana Tsikhanouskaya's initiative group in the Hrodna region Volha Kariakina was also detained. She was released after the search in her apartment.
It will be recalled that on May 29th, blogger Siarhei Tsikhanouski and nine other people were detained in Hrodna during the picket for signature collection. Independent media report a provocation was committed against the blogger.
A criminal case of "violence against the police officers" under Article 364 of the Criminal Code is initiated. 9 people are detained at the picket in Hrodna. They are Siarhei Tsikhanouski, Jauhen Roznichenka, Zmitser Furmanau, Uladzimir Navumik, Verhil Ushak, Aliaksandr Aranavich, Siarhei Kalmykau, Vasil Babrouski and Artsyem Sakau.
Three detainees were transferred to pre-trial detention centre-1 on Volodarskogo Street in Minsk. The whereabouts of Siarhei Tsikhanouski remain unknown.
In the evening, June 8, the 10-day term for bringing charges or the release expires.
Human rights activists recognized Siarhei Tsikhanouski as a political prisoner.