This Is Life As It Is
30
Iryna Khalip
10.07.2020, 8:52

108,647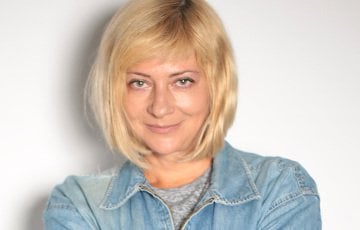 If you see Yermoshyna, don't drive her away.
Everything isn't as easy with Yermoshyna as it may seem. It would seem that just a month ago, our Lida was going to die. She gave an interview and told us that those elections were the last ones for her. Then she was going to retire and wait for her life to come to an end. However, very little time has passed and she has decided to stay alive for a while. To live a lush life.
Where should Yermoshyna look for such a life? Judging by the description of her place of residence, she cannot let herself go: "a small street, neighbours-businessmen, not a single official and an ambassador". That is, nobody even says hello. She is a persona non grata for an ambassador. Businessmen have their inner circle and there is no place for the person from the Babruisk Executive Committee. What should she do? Of course, she should turn to the law enforcers for assistance to help her enter an active society since people do not accept her willfully. The law enforcers can still help: they have been birds of feather for the last month and a half, and then no one will help, the social security department with the pension at least.
Yermoshyna went to the Investigative Committee. She filed a complaint against Tsikhanouski - he allegedly threatened to hold a picket to collect signatures near her house. It didn't help. She said she wanted to take part in the movement somehow. They got it and gave her a pass to society: she was recognized as a victim in Tsikhanouski's case. Let her have fun before she retires.
Well, now Yermoshyna's real life begins. Now she can demand a confrontation with Tsikhanouski to sit at the same table with a celebrity and witnesses. She can even take the selfies as if she's friends with him. She can dream and imagine yourself as Minsktrans, which also declared itself a victim 10 years ago after the protests on December 19. Then the victim was even paid Br159 thousand - $50. There's a chance to dress up. The main thing is that she appears in court (if one is held), where crowds of smart, active, interesting people will gather to support Siarhei Tsikhanouski. Yermoshyna has no chance to appear with them in the same space "in peaceful life": she will be booed and whistled. The court is the only way to do it. So she's going to rock before she retires. Most likely, it will be the best thing that will happen in her life. At least it will be the best part of it.
By the way, have you noticed a trend? Day after day, state media journalists, broadcasters, civil servants and even law enforcers suddenly announce a transition to the people's side. Almost all of them are talking about the last nail. This nail is arrests, the shutdown of the shop of national symbols, the dispersal of a peaceful legal picket, or the annulment of one's signature. There are a lot of options. Of course, anything can serve as a formal reason, up to a policeman who accidentally stepped on one's foot. But the reason is quite different, and this is not progressive repression or election fraud. All these people are intelligent and mainly educated, they've all known and witnessed it for many years, but did not hurry to leave their cosy offices and studios. They wondered what kind of desperate and weird people you were. But life turned out to be stronger than compromises. And those who keep breaking through their compromise swamp every day couldn't pretend anymore they didn't understand that real life exists on the streets, in pickets, on solidarity actions. It's filled with noise, movement, fearlessness, laughter. There are immediate well-being and hopelessness, and most important, hellish boredom. Here is the path to changes. There's a road that runs in circles and head to nowhere.
They all turned out to be smarter than Yermoshyna. They just once came and joined the chain of solidarity. Either they recorded a video in support of the political prisoners, or banged the door behind them, or initiated a struggle for their own rejected signature. Now they feel joy, concern, sometimes fear, but this is life. This is also a historical moment told to future generations not only by grandparents but also by history books. Can one miss it by hiding from reality in an office or studio?
The borshch lover was simply not smart enough. She headed to the Investigative Committee instead of heading to the street or Belarusians. What can you do, huh? After all, she is about to face liability for two decades of the election fraud. Let us be gentler. If you see Yermoshyna, don't drive her away. Let her stand on the sidelines, listen to the conversation, look at people. It is not annoying, we are kind.
Iryna Khalip, especially for Charter97.org