Volha Nikalaichyk: The Train of Lukashenka and His Gang Is on Fire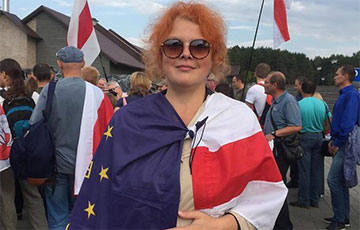 They are adding fuel.
Film director and social activist Volha Nikalaichyk was released on 7 July after 30 days of illegal arrest; 22 of them she spent in the penalty ward.
In an interview with Charter97.org, Volha explained why she is full of energy and inspiration:
- You know, I don't consider my experience an extraordinary one. It happens to those who are now fighting for freedom, and I am no exception. To be honest, we are all heroes today. Including journalists from the independent media.
Everything that happened in the detention centre and the ward is not a disaster. On the contrary, this experience makes you stronger.
If a person is clever, he will find things to do. I've written a series of stories and a lot of scripts for documentaries and came up with some street actions. When you see a perspective, you have something to work on.
The authorities have made people angry with repressions. The people have hope for solidarity and liberation. Therefore, I could not feel broken. On the contrary, I had a feeling of the significance of our mission.
Of course, the first thing I did after 30 days under arrest was long nap time. In a day I felt as strong as usual. We will keep pursuing our mission.
When one asks whether Belarusians have chances, I say that there are as many chances as Belarusians in the country (9 million). The authorities just waste the time while our intentions, plans and beliefs are getting stronger. As long as Lukashenka is in power, we simply have no right to act in any other way. So, we go ahead.
- Don't you think that the authorities face a zugzwang: any of their actions equally aggravate their positions?
- Of course, they have lost the initiative. They are nailed. I can feel their fear. They make mistakes all the time.
Do you know what special is about this year? Not only the opposition came to the streets, but "white", "black", "red", "green", "blue" joined them. All people, regardless of different views and principles, rose against Lukashenka. People want elections without a "moustached cockroach"; they want to live in another country. Old ladies I know used to support him five years ago, now they curse him.
Although the antiheroes have employed all their capacities, nothing depends on them. We are the ones to make a difference. The authorities only escalate the situation and elongate the chain of their crimes. This selfish power does its best to bring the Shklou criminal closer to the Hague.
Boris Grebenshikov sings: "This train is on fire, and we have no place to escape". This train with a gang of law enforcers led by Lukashenka is on fire; they add fuel to it. I'm doing my best for it to speed up and reach its destination station faster.
- You say that Lukashenka and his entourage add to the speed of this train on fire. What do they precisely do?
- Whatever he does, it works against him. He's overtaken by fear. One can see that his face is a clot of hate and malice. He can't even wear a less evil mask. Whatever he does weakens him.
You know, he's like Hitler in the last months of the war, everything works against him. We should observe it with a poker face and avoid panic and his provocations. We need to do our job, be in solidarity and complete what we've taken up.
There is an unprecedented renaissance in society since 2010. Everyone in the country, from a schoolchild to a pensioner, understands this. Nobody even wants to see Lukashenka at these elections.
The main thing is that our movement is no longer led by a small group of activists, but people themselves have taken to the streets and no one will drive them on a couch anymore. People have taken the path that leads to a free Belarus. No one can stop it. People organize themselves; they have changed. Unlike Lukashenka, Belarusians read books, studied well at universities, listened to music, went to theatres and operas, went abroad to listen to Pavarotti or Sting. Probably, Lukashenka has not read a single good book in his life. He is destroying himself now, while we are getting stronger.
There's no need to play a concentration camp with the Belarusians. We live in the centre of Europe. The Belarusians are an advanced nation that has reached the finish line of its liberation.
- At the latest legal picket before the arrest, you were raising money for Lukashenka's ticket to the Hague. Would it be better to try him here?
- The Hague is a metaphor. Everyone knows what it means. The Ceausescu option may work out, but I'd still prefer a trial. To try him here is the best option. If he succeeds to escape like Yanukovych, it will be just symbolic, like a release from complexes and fears for us. He has arranged the genocide of the Belarusians in all spheres: economy, coronavirus, and drugs. He thought that we would tolerate it. However, he is the one to blame for current "adventures".
You know, it would have been the most scandalous trial in Europe if the nation of nine million had sued Lukashenka and his family. I want to fine Lukashenka $100 billion because he made us a Third World country. He must compensate it and be sentenced to life in prison. Let him think about what awaits him. Let his entourage does the same.
- Do you feel pride for our nation now?
- Yes. Sometimes I look at people and think they may play some kind of game. Then I look at a person, his deeds and admire him. This summer has generated a great number of men and women who are ready to go ahead and liberate the country and reveal the truth.
Frankly speaking, two years ago I wondered whether we found the right way up or took the wrong way down. Now no one is afraid. Nobody's fighting, people stand for each other. Informants with cameras do look so miserable.
I am very surprised to see so many decent people at the forefront of the people's liberation movement. Lukashenka can't stop it.
- You mentioned that you had come up with ideas for new actions during the arrest. Could you share them?
- There're a lot of ideas. I don't have my laptop, but I'll try to phrase it more specifically the other day. But the main thing is that we must come together in the city before the elections. First of all, we will fight for the release of our comrades.
Sviatlana Tsikhanouskaya expressed concern about the lack of support for her husband. I want to address her: I am ready to take her husband's place. While I am at large, I can travel around the country and do his job, talk to people on key topics and look for answers. Sviatlana is a very strong, beautiful, worthy woman and I ask her not to lose courage. We all love Siarhei. I am ready to take his place.
- What if the authorities do not register Sviatlana Tsikhanouskaya and Viktar Babaryka as candidates on July 14?
- What? We can take to Kamarouka, Victory Square, start raising money for the Hague, hold streams, make up the chain of solidarity of 100 thousand people in it. We have the strength for that. We've got experience.
If they jail ten people, a hundred will take their place. We have millions of optimistic Belarusians. No one will kneel before the usurper. Everyone gathers the strength to fight. I am sure that we will rock before and during the elections because we have good reasons for that.
I think strikes play a significant role as well as large-scale disobedience. Belarusians will no longer work for Lukashenka. We need him to resign. We need fair elections without Lukashenka. He kills our future. The Belarusians will protect their future. He won't intimidate us.