Sviatlana Tsikhanouskaya: Siarhei's Back To Punishment Cell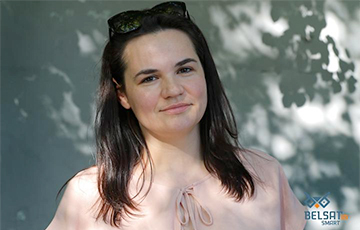 This time for "not being shaved."
Blogger Siarhei Tsikhanouski has again been taken to the punishment cell of the detention center № 1. This time for not being shaved, Sviatlana Tsikhanouskaya reported to tut.by.
The blogger was taken to the punishment cell on Friday, July 10. The next day after the trial, where his complaint for putting him in the punishment cell the previous two times was considered.
- I went to see him on Friday, they took the care package. Apparently, they put him in the punishment cell later. So far they say he'll be there until Tuesday, July 14. Whether he'll be released on Wednesday or not, we don't know. He's got five penalties so far: a warning, a reprimand and three placements in the punishment cell. I don't know what he's been warned and reprimanded for. At the trial, the employees of the pre-trial detention center said that neither cobwebs nor shaving are not the very violations for which a person is put in the punishment cell, but for them being repeated. In other words, you haven't shaved - you get a warning, two warnings are a reason for putting a man in the punishment cell, - Sviatlana Tsikhanouskaya said.
The blogger's wife also said that Siarhei Tsikhanouski is keeping the stiff upper lip, is trying to keep up his spirits and thanks people very much for the support in the form of letters.
We remind that the first time Siarhei Tsikhanouski was placed in the punishment cell on June 13. On June 20 we extended our stay in the punishment cell until June 26. Tsikhanouski's lawyer Viktar Matskevich said that the blogger was subjected to two penalties, each of them - seven days in the punishment cell.