BBC Cameraman Andy Smith Detained In Minsk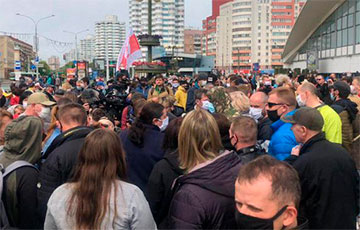 11 media representatives have been detained in different cities of Belarus.
BBC cameraman Andy Smith fell into line with the journalists, detained in Minsk on July 14. The Belarusian Association of Journalists has reported on his detention, naviny.by informs.
According to the BAJ, 11 media workers were detained in different cities of Belarus.
Journalists Mikhail Il'yin and Artsiom Mayorau (Euroradio), Ales Piletski and Andrei Rabchyk (Radio Svaboda), Katsiaryna Andreyava (Belsat), freelance correspondent of the Novy Chas newspaper Artsiom Liava were detained in Minsk.
Correspondents of the Hard-Hitting News website Nadzeya Puzhynskaya, Maryna Drabysheuskaya and journalist Yury Hlushakou were detained in Homel. Freelance correspondent of the First Region website Danila Palianski - in Brest.
The detained journalists were covering the protests, held on July 14 in Minsk, Brest, Homel, Hrodna, Mahiliou and some other cities. People took to the streets to protest against the results of registering presidential candidates. The CEC did not register the key campaign participants Viktar Babaryka and Valer Tsepkala.